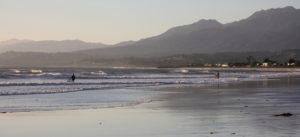 Santa Barbara Channelkeeper is a grassroots non-profit organization whose mission is to protect and restore the Santa Barbara Channel and its watersheds through science-based advocacy, education, field work and enforcement.
We work on the water and in the communities along the Santa Barbara Channel to monitor water quality, restore aquatic ecosystems, advocate for clean water, enforce environmental laws, and educate and engage citizens in implementing solutions to water pollution and aquatic habitat degradation.
Channelkeeper was founded in 1999 as a program of the Environmental Defense Center, and we became an independent 501(c)(3) non-profit organization in 2002. We are a member of Waterkeeper Alliance, a coalition of 200 grassroots groups on six continents collectively patrolling and protecting more than 1.5 million square miles of watersheds and defending their communities' right to clean water. We are also a member of the California Coastkeeper Alliance, a coalition of all 12 California Waterkeepers working to strengthen water quality and marine habitat protections at the state level.