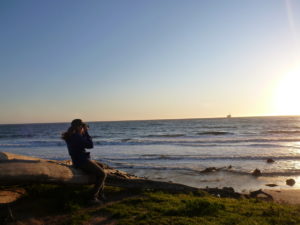 Since the regulations implementing the network of marine protected areas (MPAs) along the Southern California coast entered into effect in January 2012, Channelkeeper has turned our attention to educating the public about the multiple social, economic and ecological benefits MPAs provide and to monitoring their impact. This effort includes our new MPA Watch program, which trains and engages volunteers to help us record and track human activities in and adjacent to the new MPAs off the Santa Barbara coast.
The data collected by MPA Watch will be critical in providing context for and facilitating interpretation of biological monitoring data, while also identifying any social and economic benefits that result from MPAs (i.e. from increased recreation and tourism). The program will also aid compliance and enforcement efforts to ensure that MPA regulations are followed. We are now working with other organizations to expand the program so that it eventually covers all MPAs state-wide.
Volunteering for MPA Watch is a great way to learn more, get involved and spread the word about your local MPAs. Anyone can become an MPA Watch volunteer – it's easy and fun. It involves walking designated sections of our coast and recording any human activities observed onshore and off shore through standardized surveys. Monitoring surveys are designed to take less than 1.5 hours, and volunteers can choose the days and times most convenient for their schedules. Volunteers are simply asked to conduct at least three surveys a month and to follow our designated monitoring protocols. Channelkeeper provides volunteer training, data sheets and all necessary equipment. Please contact us by email or at (805) 563-3377 ext. 4 if you are interested in learning more or becoming an MPA Watch volunteer.