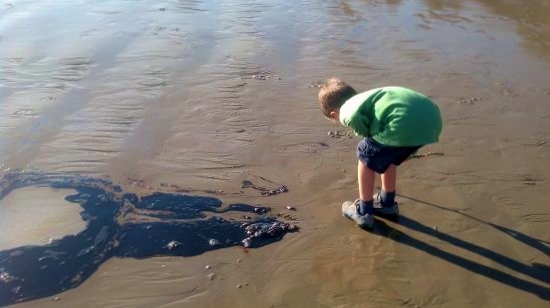 As many locals know, our coast was home to one of the largest oil booms in our nation's history beginning in the late 1800s. Back then, once oil wells and other infrastructure had reached their useful life, they were often abandoned with slapdash techniques. We have several of these poorly-abandoned "legacy wells" along our coast which leak significant volumes of oil, particularly in the Summerland area. The Becker Well, located in the surf zone on Summerland Beach, is the worst offender, often causing overwhelming odors, sheens on the water, and a thick oily "mousse" on the beach.
Fortunately, thanks to advocacy by Channelkeeper, other environmental groups, concerned citizens, and elected officials, the State Lands Commission (SLC) is now investigating the Becker Well and designing a plan to properly re-cap it, and a proposal to fund this important work has been put forward in the draft state budget. We need your help to make sure these funds remain in the final budget so that the Becker Well can be properly sealed.
Please copy and paste the text below and email the State Budget Committee.
Dear Assemblymember Bloom and Members of Assembly Budget Subcommittee 3 on Resources and Transportation:
I am writing to urge your committee to support the Governor's proposal to complete the proper abandonment of the Becker Well on Summerland Beach in Santa Barbara County. This is a project under the Mineral Resources Management Program of the State Lands Commission, and would complete a process already underway by the Commission.
Summerland Beach has a long history of oil pollution resulting from improperly abandoned wells, having been the first location of offshore oil drilling in the world. Some of those wells have been properly re-abandoned over the years, enabling both area residents and thousands of visitors to enjoy safe swimming and a clean coastline at a beach that is highly accessible due to its proximity to the freeway and free parking.
Over the past five years, one improperly abandoned well (Becker) has been sighted leaking, and conditions have steadily deteriorated – reaching a point where many traditional, committed users have themselves abandoned the beach because of what they describe as 'filthy' water and 'nauseating' fumes. Without better guidelines about safe swimming and air quality, less informed beach users do continue to swim and stay on the beach, exposing themselves to potentially unsafe petrochemicals.
We are allowing a beautiful stretch of ocean and coastline to be fouled by the result of human action taken over a century ago. We urge you to support the Budget Change Proposal from the State Lands Commission to complete the reabandonment of the Becker Onshore Well.
Sincerely,
NAME
CITY OF RESIDENCE