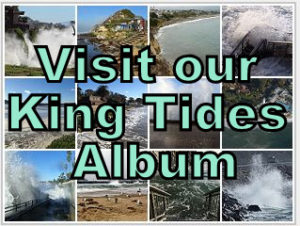 The National Academy of Sciences predicts that the ocean along California's coast will rise as much as one foot by 2050 and five feet by the end of the century. To help document the potential impacts of rising sea levels, Channelkeeper and other groups throughout California coordinate efforts to support the California King Tides Project.
The objectives of the project are to:
Identify and catalog coastal areas that are currently vulnerable to tidal inundation
Build an online resource of images that can be used by everyone – artists, scientists, school groups, coastal planners –  to document, visualize, and communicate about coastal hazards
Engage Californians in a conversation about the future of our beloved coastal areas
These winter high tides, known as "king tides," are the highest tides of the year. Although king tides are naturally occurring and predictable, they are particularly high compared to tides throughout the rest of the year and thus offer an opportunity to see how infrastructure and ecosystems may be impacted as sea level rises due to climate change. When king tides occur during storms, large wave events, or floods, waters can rise to even higher levels and have the potential to cause significant damage to property and the coastline.
During king tide events (generally in December and January), Channelkeeper seeks volunteers to help photo-document our shoreline. Channelkeeper also documents king tides by boat and by air.
Google Map View of Photos

Open the SBCK King Tides Google Map or use the map below to view pictures taken by Channelkeeper and volunteers during King Tides. You can also visit our Flickr SBCK King Tides photo album.
Participate in 2018/2019!
Head to our local beaches for the morning high tides on December 22-23 and January 20-21 to document impacts to sensitive habitats and infrastructure (buildings, outfalls, sea walls, piers, etc.). Send your pictures to molly@sbck.org and post to social media using #kingtides.
Click here for more information on King Tides.
Previous Media Coverage
Check out the media coverage about our efforts in previous King Tides seasons: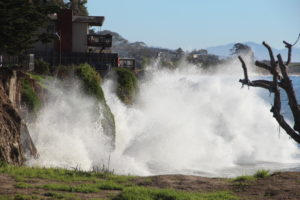 2013-2014
KEYT 1.6.14
TVSB 3.1.14 (starts at 5:15)
2014-2015
KEYT 1.19.15
2015-2016
KCBX – 11.20.15
KEYT 11.25.15
VC Star 11.25.15