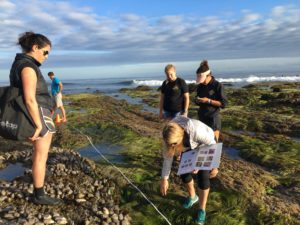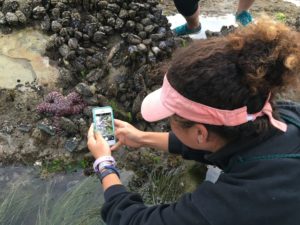 Channelkeeper's Citizen Scientists for Tidepool Assemblage Research (CSTAR) is a partnership with the Bureau of Ocean Energy Management's MARINe network. CSTAR seeks to supplement the 20+ years of data MARINe has collected by establishing a pilot project for volunteer citizen scientists to collect data that helps evaluate the health of intertidal ecosystems and determine impacts from future oil spills. Once established and proven at the pilot site at Coal Oil Point, this citizen science project will provide a model that can be replicated at other MARINe monitoring sites along the West Coast, enabling the collection of more frequent data at established monitoring sites where funding has been cut or at new sites to fill monitoring gaps.
It is vital to continue MARINe's long-term monitoring and dataset so that management agencies and academic institutions can continue to use the data to inform important resource management decisions, publish scientific findings, and educate the public. With the ever-increasing concern over the effects of climate change on important habitats such as rocky intertidal systems, long-term datasets like MARINe's will become increasingly valuable.
You Can Join the CSTAR Team!
Masters students from the Bren School of Environmental Science and Management developed the citizen science protocol to ensure that valuable data can be collected by volunteers even with no marine science experience. Monitoring events occur quarterly during negative tides. If you are interested in volunteering for the next event please e-mail molly@sbck.org.
Channelkeeper would like to thank UCSB Coastal Fund for the opportunity to implement this project and engage the UCSB community in education, research, and advocacy to protect our coastal ecosystems.