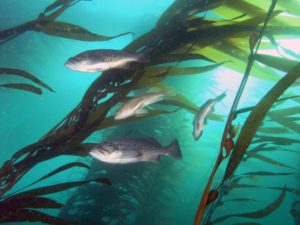 Giant kelp (Macrocystis pyrifera) is a type of brown algae that grows on rocky reefs in ocean waters usually less than eighty feet deep. Using sunlight and ocean nutrients, giant kelp forms dense stands growing up through the water and spreading into a canopy, resembling an underwater forest. The giant kelp beds off of Southern California are one of the most diverse biological communities known to exist in our world's oceans. Approximately 800 species of marine organisms depend on the kelp forests at some point in their life history.
Giant kelp once grew thickly along the Southern California coast but has been reduced by nearly 80 percent in the past 100 years. Though natural disturbances such as heavy storms and El Niño events have taken their toll, the kelp beds have not been able to recover from these natural stressors due to stormwater and other pollution, sedimentation from coastal development, over-fishing of top predators that balance out kelp-grazing sea urchins, and the regional decimation of the southern sea otter.
Channelkeeper is currently supporting scientific monitoring of kelp forests through its Marine Protected Area (MPA) monitoring efforts. Channelkeeper was also part of the California Coastkeeper Alliance's Southern California Kelp Restoration, Monitoring and Education Project, which lasted from 2001-2007. This project, which spanned the coast from Santa Barbara to San Diego, sought to reestablish historic kelp beds along the Southern California coast and to educate the public about the importance of kelp forests to the marine environment. Waterkeeper biologists and outreach specialists leveraged their own experience with that of hundreds of volunteers in the community to conduct restoration and educate the next generation of ocean stewards. The project was supported by National Oceanic and Atmospheric Administration's (NOAA) Community-Based Restoration Program and the California Coastal Conservancy as well as private foundations.
During the six-year project, Santa Barbara Channelkeeper, Santa Monica Baykeeper, Orange County Coastkeeper and San Diego Coastkeeper trained and involved hundreds of volunteer divers, restored 18,500 square meters of kelp, and reached out to over one million community members. Project biologists directly educated over 14,000 students in hundreds of classrooms throughout Southern California.
Channelkeeper also conducted a kelp monitoring project at "Bird Island," a remnant oil pier offshore at Ellwood (in Goleta) that was removed in October 2005 along with other oil industry debris that littered the seafloor in the area. The California Department of Fish and Game and the California State Lands Commission required that a bird roost and an artificial reef be built as mitigation for the disturbance to marine life that the removal caused. Channelkeeper worked with these agencies to design and implement a five-year monitoring program of the mitigation site to ensure that it met its goals. The monitoring did detect kelp recovery, as well as increased residency of other common local species over the five-year monitoring project.