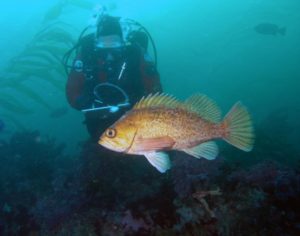 Aboard our boat, Channelkeeper monitors the health of critical marine habitats in the Channel such as kelp forests, eelgrass beds and Marine Protected Areas. We utilize rigorous scientific monitoring techniques and equipment to track the status and trends in recovery or decline of marine species and habitats, and to identify sources of impacts to these species and habitats.
Currently our marine habitat monitoring efforts are focused on the coastal Marine Protected Areas (MPAs) that entered into effect in 2012 in the Santa Barbara Channel. We monitor human activity in MPAs through our citizen volunteer program, MPA Watch, to detect changes in human activities as a result of the new protected area status in these areas, to identify instances and trends of non-compliance with MPA regulations, and to help interpret how fish populations are responding to the additional protection. We also monitor marine debris in the sandy beach and tidal habitats of our coastal MPAs to gauge whether human use of these areas may have negative impacts.
Channelkeeper is also supporting biological monitoring of nearshore underwater habitats such as kelp forests and rocky reefs in partnership with scientists from UCSB to track how fish populations and marine communities associated with these habitats respond over time to the protection provided by MPAs. To learn about our involvement in ocean acidification research, click here.
Channelkeeper has also partnered with the Bureau of Ocean Energy Management's MARINe Network to monitor intertidal habitat at Coal Oil Point Reserve. Our Citizen Scientists for Tidepool Assemblage Research (CSTAR) supplements the 20+ years of data MARINe has collected by establishing a pilot project for volunteer citizen scientists to collect data that helps evaluate the health of intertidal ecosystems and determine impacts from future oil spills. For more information on this program and how you can volunteer, visit our CSTAR page.