Goleta Slough
No-Take State Marine Conservation Area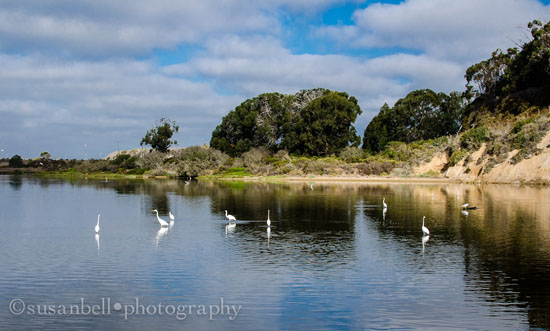 The Goleta Slough is located approximately eight miles west of downtown Santa Barbara, immediately north of Goleta Beach County Park. In addition to its designation as a State Marine Conservation Area, it is also designated as Environmentally Sensitive Habitat, providing habitat for 13 state and/or federally listed endangered or threatened species. Bird watching is especially unique within the Slough as this area hosts a great blue heron rookery, black-horned night heron roost, Canada goose wintering, and foraging grounds for Belding's Savannah Sparrow and several shorebirds.
Recreational Opportunities
Walk to Goleta Beach
Biking – Atascadero Creek trail begins at Goleta Beach Park, passes over the Slough, continues along the creek and eventually connects with Maria Ignacio Creek trail. This flat, easy ride features creek-side views along native riparian habitat.

Public Access
South East Section
Park at Goleta Beach. Walk east through the parking lot or along the beach to the mouth of the Slough, or walk north along the bike bath that crosses over the Slough near the intersection Sandspit Road and Moffet Place.
 Santa Barbara public bus Line 11, stops at Moffet Place and Goleta Beach Park.
Goleta Slough Overlook (just north of the UCSB Mosher Alumni House)
Park in UCSB's parking lot 16 (you must purchase a visitor parking permit) and walk east to the Goleta Slough Overlook.
Take Santa Barbara public bus lines 11, 15x, 24x, or 27 to UCSB, walk north along Ocean Rd and access the Goleta Slough Overlook.
Take of all living marine resources is prohibited except for take pursuant to routine maintenance, dredging, habitat restoration, research and education, maintenance of artificial structures, and operation and maintenance of existing facilities in the conservation area per any required federal, state and local permits.
In waters below the mean high tide line inside the Goleta Slough Ecological Reserve, the following restrictions apply:
Boating, swimming, wading, and diving are prohibited.
No person shall enter this area and remain therein except on established trails, paths or other designated areas except department employees or designated employees of Santa Barbara Airport, City of Santa Barbara, Goleta Sanitary District and Goleta Valley Vector Control District for the purposes of carrying out official duties.
­Sources and Useful Links:
Department of Fish and Wildlife
Goleta Slough Management Committee