Scorpion Marine Reserve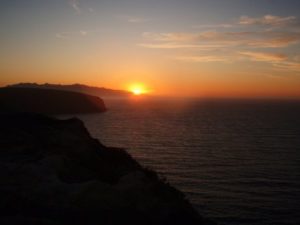 Scorpion Anchorage is the most visited area of the Channel Islands National Park and National Marine Sanctuary because of the variety of activities that are available, ease of access, and picturesque landscapes. A short one-hour boat ride from Ventura will take you to this incredibly diverse marine reserve that hosts lush kelp forests, lots of marine life, and unique sea caves for the adventurous. The mixed sand and cobblestone Scorpion Beach is a world-class destination for swimming, diving, snorkeling, and kayaking because of easy beach access, clear ocean waters, nearby camping, and year-round Island Packers boat transportation.
 Recreational Opportunities
Guided kayaking trips of the sea caves with snorkeling gear included
Snorkeling and Diving
Channel Islands Outfitters offers guided snorkeling adventures with an experienced, knowledgeable guide.
Island Packers provides boat transportation to Scorpion Anchorage on Santa Cruz Island and can transport snorkeling and dive gear (limit two tanks per person).
Several local dive companies visit Anacapa and Santa Cruz Island that depart from Santa Barbara, Ventura, and Channel Islands Harbors. Specific destinations vary for these outfitters so coordinate with them directly to request a dive at one of the Channel Island MPAs.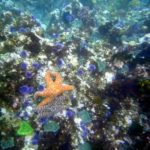 Wreck Diving
Within Scorpion MPA, The Spirit of America sits on a sandy bottom at about 65′ deep and can be a great dive with some of the biggest Spanish Shawls that you will see and the with the other fish that call the wreck home this is sure to please everyone. The Spirit of America is very photogenic and is a great dive for the photographer and sightseer and it seems to be overlooked by most dive boats. Contact local dive companies to inquire about trips to dive the wreck.
Wildlife
While crossing the Santa Barbara Channel visitors are likely to see dolphins, seals, and sea lions, and the lucky visitor may encounter one of the several species of whales that visit our area.
 Private Boat Charters
 Public Access
As this MPA is located at the Channel Islands, access is only available by boat.
Island Packers provides boat transportation from the Ventura Harbor to Scorpion Anchorage on Santa Cruz Island. Join them for a landing trip to hike on Santa Cruz Island and snorkel, dive, or kayak within the MPA. Other boat transportation options include local dive companies, charter boats, and private boats.
Regulations
­Take of all living marine resources is prohibited.
Sources and Useful Links:
Channel Islands Dive Adventures
National Park Service – Private Boating Tips
Department of Fish and Wildlife