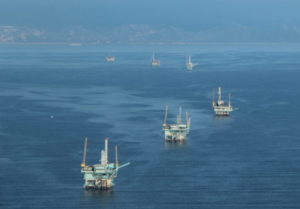 In April 2017 President Trump issued Executive Order 13795, the "America-First Offshore Energy Policy," and initiated the process to open Federal waters to new offshore oil and gas development. A draft of the proposed 2019-2024 National Outer Continental Shelf Oil and Gas Leasing Program was released in January 2018. The New Draft Plan would open more than 90% of the total Outer Continental Shelf (OCS) to potential new and expanded oil and gas leasing, including the Santa Barbara Channel. 
What It Means Locally
New leases have not been offered for sale in federal waters off the California coast since 1984 or in state  waters since the 1969 oil spill. Under the new proposed plan, lease sales would occur in the Southern California planning region (from the Mexico border to north of San Luis Obispo) in 2020 and 2022. After a public review process, lease sales would allow companies to bid on "lease blocks" (three square mile areas of ocean), with the lease going to the highest bidder as long as the bid is determined to be "fair market value." This means that, as currently proposed, hundreds of new lease blocks in the Santa Barbara Channel may be opened to new and expanded oil and gas extraction.
The Process
There are many opportunities for the public to weigh in before oil and gas extraction would actually occur. The diagram below describes the entire process, from development of the draft National OCS Plan to permitting individual drilling projects.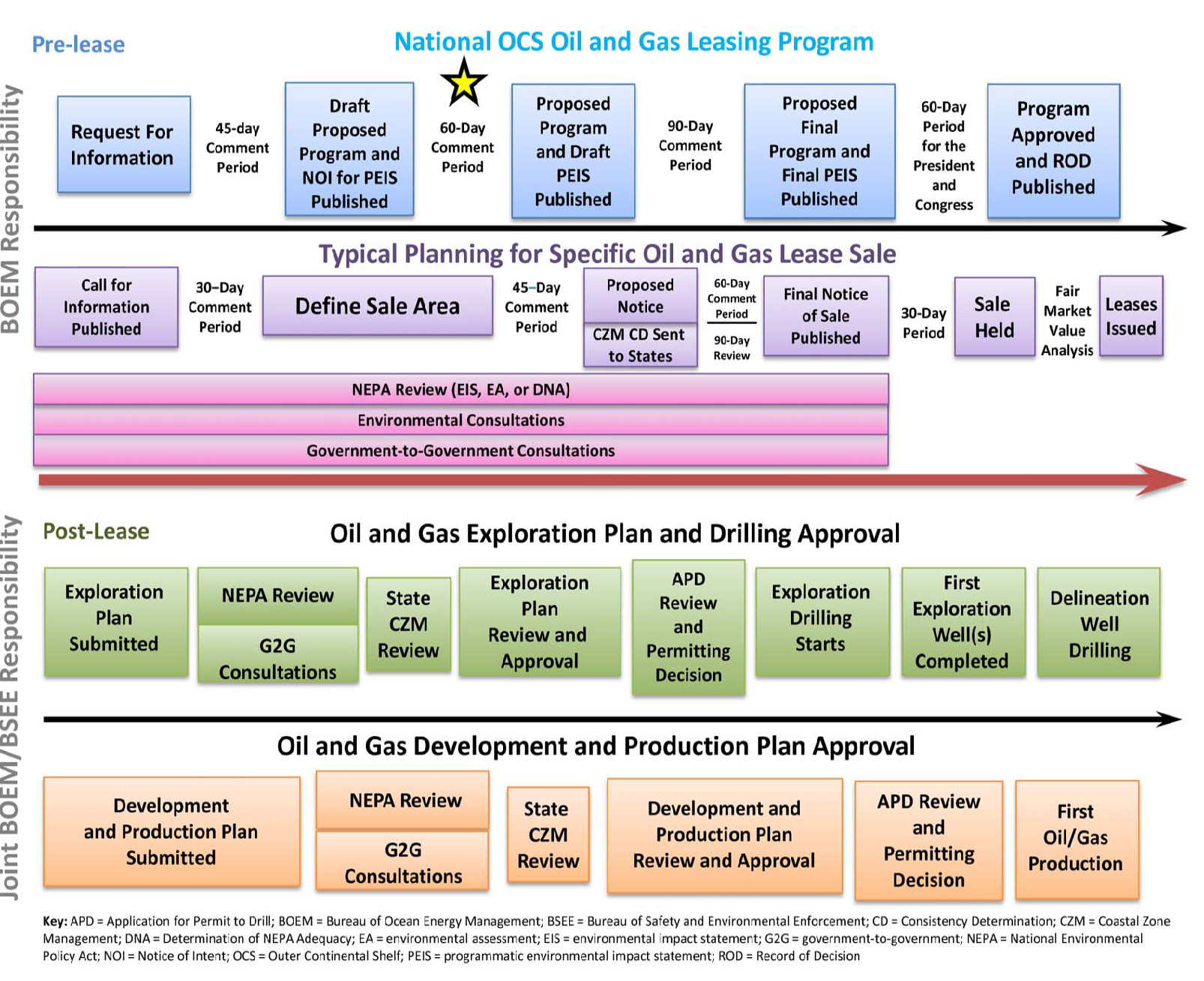 The yellow star indicates where we currently fall in the process. The 60-day comment period has ended and we are awaiting the release of the Proposed Program and Draft Programmatic Environmental Impact Statement. Channelkeeper will advocate against new and expanded oil and gas leasing and development in the Santa Barbara Channel throughout this process, and will update the "Take Action" section below so you can make your voice heard as well.
Learn More
The Bureau of Ocean Energy Management (BOEM) is responsible for developing the National OCS Plan and permitting individual projects in Federal waters (beyond three miles from shore). More information about the proposed plan and BOEMS's process are available here.
Check out these two recent LA Times articles that provide an analysis of what this plan could mean for California.
Take Action!
The 60-day comment period on the Draft Proposed Program has ended. We are currently awaiting the release of the Proposed Program and Draft Programmatic Environmental Impact Statement. We will update this page when public comment is opened again (likely after the November 2018 elections) so that you may have your voice heard to ensure the Santa Barbara Channel is protected from new and expanded oil development.
For more information on how on the OCS Plan process and how to provide comments, visit BOEM's website.
While we wait for the next comment period to open, write a letter of support for California legislation (SB 834 and AB 1775) that will help protect our coast from this plan! Visit our Current Legislation page for more information and to take action.