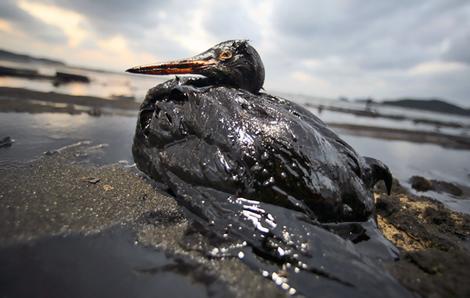 Even in the absence of an oil spill, ongoing operations from oil exploration and production present serious risks to water quality and the environment, while also contributing to climate change. Threats to water quality from oil drilling include releases of oil, produced water, drilling muds, and wastewater from oil platforms, discharges of ballast water, oily bilge water and wastewater from vessels that service the platforms, and deposition of air pollutants from the platforms and support vessels. Produced water, although treated, can contain high concentrations of salts, metals, hydrocarbon and organic compounds, and sulfur that can harm marine life. Drilling fluids and cuttings, which are characterized by the US Environmental Protection Agency as the major sources of pollutants discharged from exploratory and development drilling operations, can smother larvae and can reduce the growth of scallops and lobsters and impair their ability to function. In addition, the risk of a major oil spill is ever-present.
Oil spills can cause catastrophic damage to the environment and our economy. Wildlife can face short-term and long-term impacts ranging from behavior modification, limited food availability, and hypothermia to organ damage, reduced reproduction, neurological deficits, and death.  In addition, habitats affected by oil spills can take decades to recover. Impacts to the fishing industry can be severe, as short-term closures can limit access to fishing grounds and impacts from the spill make their way through the food web. Regions such as Santa Barbara County whose economies rely on tourism and recreation are particularly vulnerable as beach closures, long-term environmental damage, and images of blackened shorelines reduce tourism rates.
Additional information on impacts of oil spills:
National Oceanic and Atmospheric Administration – "How Oil Harms Animals and Plants in Marine Environments".
The California Department of Fish and Wildlife – "Impacts to Wildlife Fact Sheet" and other Wildlife Fact Sheets