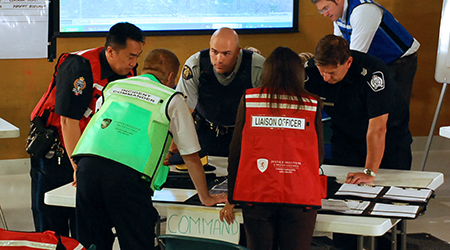 Channelkeeper is an active participant in oil spill response planning for our region. Our staff has worked with the US Coast Guard, California Department of Fish and Wildlife's Office of Spill Prevention and Response (OSPR), and local emergency response agencies to improve oil spill prevention and response by reviewing and helping to strengthen local and regional Oil Spill Contingency Plans.  The primary plan that governs spills which impact marine resources in the Santa Barbara Channel/South Coast region is the Los Angeles/Long Beach Area Contingency Plan. Each county also has its own Oil Spill Contingency Plan and individual operators are mandated to submit their own Spill Response Plans to OSPR for approval. All plans generally identify sensitive resources that may be at risk, strategies for protecting those resources, how agencies will coordinate a unified response, clean-up assessment protocols, and relevant regulations and policies. Updates to our local plans are currently being made to incorporate lessons learned from the Refugio Oil Spill.
Santa Barbara County Oil Spill Contingency Plan
The current plan is available here.
Los Angeles/Long Beach Area Contingency Plan
The coast of Santa Barbara and Ventura counties, including the Channel Islands, falls within the purview of the Los Angeles/Long Beach Area Committee. The LA/LB Area Committee meets quarterly, is open to the public, and is responsible for improving and implementing the region's Area Contingency Plan (ACP). The LA/LB ACP establishes strategies for federal, state, and local agencies to implement in the event of an oil spill that affects the marine environment from San Luis Obispo to Orange County. Efforts are currently underway for the 2019 revision. Channelkeeper is an active member of the Area Committee and advocates for improved oil spill prevention and response strategies, as well as increased public communication and transparency.
The current plan is available here. Click here for information on the LA/LB Area Committee.