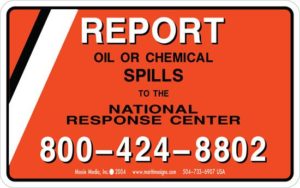 To report a potential oil spill please contact The National Response Hotline at 1-800-424-8802. After your call to this official hotline, please contact us at oilspill@sbck.org or (805) 563-3377.
When reporting, be prepared to provide the following basic information:
Name and telephone number of caller
Location of the spill
Substance spilled such as oil, gas, diesel, etc.
Estimated size of the spill
Waterway or storm drain impacted
Date and time of the spill
If oiled or threatened wildlife are present
Information or observations on the potential source or cause of the spill
Any suspicious activity observed at the spill site
To report oiled or sick wildlife during a spill, please contact the Oiled Wildlife Care Network (OWCN) at (877) UCD-OWCN.
To report inured or sick wildlife that is not oiled please contact the Channel Islands Marine and Wildlife Institute (CIMWI) at (805) 567-1505 for any marine mammals (seals, sea lions, dolphins, otters, etc.) or the Santa Barbara Wildlife Care Network (SBWCN) at (805) 681-1080 for all other animals.