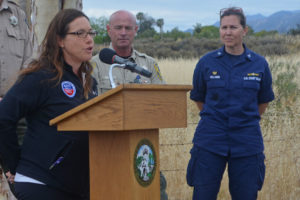 During a significant oil spill, a Unified Command (UC) will be established to coordinate response efforts across several agencies. Generally, the UC is comprised of representatives from the federal government (US Coast Guard or Environmental Protection Agency), state government (CDFW), and the company responsible for the spill (the Responsible Party). In Santa Barbara County, the County is also allocated a representative seat in the UC. The UC coordinates all efforts related to responding to and cleaning up a spill and disseminating information to the public through press releases and press conferences.
Within the UC, the "Liaison" is responsible for reaching out to and informing stakeholders, cooperating agencies, and the public. Channelkeeper will work through the Liason to transmit information from the community to Incident Command, as well as provide the community with the latest information from the response agencies.
For more information on Unified Command, FEMA offers free Incident Command System (ICS) trainings. These trainings provide an overview of how the UC functions as well as the roles and responsibilities of various positions under the UC. ICS 100 and 200 are recommended for a basic introduction.