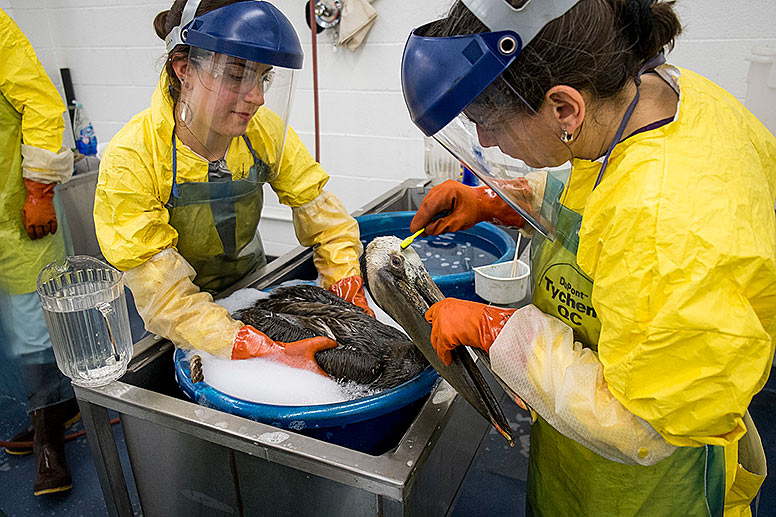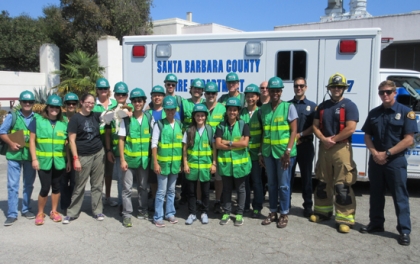 The South Coast is an environmentally conscious community and many are eager to volunteer during a disaster to help protect our coast. However, responding to an oil spill can be dangerous and it is critical that volunteers are properly trained in spill response. To be eligible to volunteer in the event of a spill, it is recommended that interested volunteers receive training BEFORE an event occurs. Individuals receiving official training offered by the organizations below are considered "Affiliated" or "Pre-Trained" volunteers and are generally the first, and often only, volunteers to be activated during a spill.
Becoming a Pre-Trained Volunteer
Community Emergency Response Teams (CERT)  – This multi-series training program educates community members about disaster preparedness for hazards that may impact their area and trains them in basic disaster response skills, such as fire safety, light search and rescue, team organization, and disaster medical operations. Using the training learned in the classroom and during exercises, CERT members can assist others in their neighborhood or workplace when professional responders are not immediately available to help. In the event of an oil spill, CERT volunteers often assist by distributing information and helping with a variety of tasks at the Emergency Operations Center.
Wildlife Rescue Volunteering – These organizations are members of California's Oiled Wildlife Care Network (OWCN). Volunteering with them and participating in various training opportunities will classify you as "Pre-Trained," and you may be called upon in the event of an oil spill. During oil spills, Pre-Trained volunteers are vitally important to wildlife rescue as they are already skilled in wildlife care.

Santa Barbara Wildlife Care Network (SBWCN)  –  The SBWCN's mission is to rescue, rehabilitate and return to the wild sick, injured, orphaned, or oil-impaired wild birds and small mammals native to Santa Barbara county and to educate the public about living in harmony with wildlife. Volunteers are the foundation of SBWCN. Whatever way that you choose to participate, your contribution of time makes a big difference and gives wildlife a second chance.  To get involved fill out an online application.
Channel Islands Marine and Wildlife Institute (CIMWI) –         CIMWI is dedicated to positively impacting conservation through marine mammal rescue, rehabilitation, research and education to promote ocean and human health. Volunteer opportunities include animal assessment and field data collection, rescue efforts and animal transport, rehabilitation shifts, education program development, facilities maintenance, hotline response, and administrative tasks. Volunteering with CIMWI offers individuals a unique opportunity to aid animals in need as well as positively impact our marine environment. CIMWI provides education and hands-on training. Volunteers must be 18 years old and are able to volunteer a minimum of one full day each week. To get involved fill out an application.
California Department of Fish and Wildlife (CDFW) – CDFW Natural Resource Volunteers support oil spill response efforts and help protect California's fish and wildlife resources. The volunteer selection process will be based on successful completion of an application, interview and background check. Selected candidates will be required to attend and complete an 80-hour training course.
Other Useful Pre-Training
The organizations listed above will likely ask that you receive Incident Command System and HAZWOPER training. While these trainings will prove useful (and may be required) for volunteering during a spill, completion does not guarantee you will be utilized as a volunteer in the event of a spill. Regular participation with an affiliated organization (see above) is recommended if you wish to volunteer.
Incident Command System (ICS) – ICS facilitates a multi-agency response in the event of a spill, with explicit roles and responsibilities assigned through a chain of command. Understanding how this system functions is critical to being a successful volunteer. ICS courses 100 and 200 are generally recommended as an introduction. Free ICS training is available through the Federal Emergency Management Agency (FEMA)
Hazardous Waste Operations and Emergency Response (HAZWOPER)  – The Occupational Safety and Health Administration (OSHA) developed the HAZWOPER program to protect workers at hazardous sites. Various levels of training are available through numerous platforms. It is recommended you work with an affiliated response organization to determine an approved training.
"Spontaneous" Volunteering During a Spill
Individuals that may want to volunteer during an oil spill should become "Pre-Trained" volunteers (see above). Volunteers without prior training are rarely utilized due to health and safety concerns. Again, exposure to oil and related fumes can be extremely dangerous. Specialized equipment and training is necessary to ensure your own safety, as well as the safety of impacted wildlife. Please, DO NOT self-deploy.
During an oil spill, this page will be updated with information specific to volunteering for the current spill response. Below is more information on general "spontaneous" volunteering.
CDFW's Office of Spill Prevention and Response (OSPR) – "Spontaneous" volunteers are unpaid employees of OSPR and CDFW. You'll sign up with OSPR and attend their required training. If appropriate for a particular response, OSPR then provides volunteers to work with the Oiled Wildlife Care Network and various other organizations involved in spill response. There are many different opportunities for spontaneous volunteers during spill response; not all opportunities involve working directly with wildlife. You may call the OSPR Volunteer Hotline at 1‑800‑228‑4544 or visit this website.