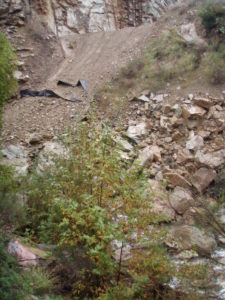 Since 2007, Channelkeeper has been monitoring water quality and advocating for actions to address severe habitat impairment problems and stormwater pollution issues at the Ojai Quarry. The Quarry is a 30-acre rock mine located on the banks of the Lower North Fork Matilija Creek, a major tributary of the Ventura River renowned for its pristine, free-flowing waters and excellent habitat for wildlife, including the endangered southern steelhead trout.
Our monitoring results consistently showed high levels of suspended sediment and turbidity in discharges from the quarry, as well as landslides and large boulders falling into North Fork Matilija Creek from the quarry's steep and unstable slopes. This pollution degraded water quality and impaired habitat for fish and wildlife, including endangered steelhead trout.
We brought these pollution problems to the attention of the quarry owner as well as numerous regulatory agencies and urged them to take action to compel the quarry to clean up its operations, but these advocacy efforts did not resolve the pollution problems at the quarry. Therefore, Channelkeeper teamed up with the Environmental Defense Center in 2012 to file a lawsuit against the Ojai Quarry for violations of the Clean Water Act and Endangered Species Act.
We successfully negotiated a settlement agreement with the owner of the Quarry, Larry Mosler, which was memorialized in a court-enforceable Consent Decree in 2014. The settlement agreement requires the Quarry to: 1) increase stormwater retention capacity sufficient to capture all runoff from the large majority of rain events; 2) pave, maintain, and inspect Quarry access roads; 3) install best management practices (BMPs) to control and channel runoff from roads; 4) cover dirt and other stockpiles to reduce erosion and runoff; 5) restrict future mining in a very steep rock face area of the Quarry; 6) suspend all mining activities during rain events; and 7) conduct annual inspections of North Fork Matilija Creek for blockages or impairments to migration of steelhead caused by rockfall or landslides from the Quarry. In addition, the Quarry owners agreed to donate $60,000 of rock product to South Coast Habitat Restoration for steelhead passage projects being constructed at Maria Ygnacio, Tajiguas, and Carpinteria Creeks.
The Quarry's commitments under the settlement agreement will greatly decrease the volume of stormwater discharged from the facility and significantly improve the quality of stormwater that is ultimately discharged, which will reduce pollutants and benefit water quality and fish habitat in the Lower North Fork of Matilija Creek and Ventura River.