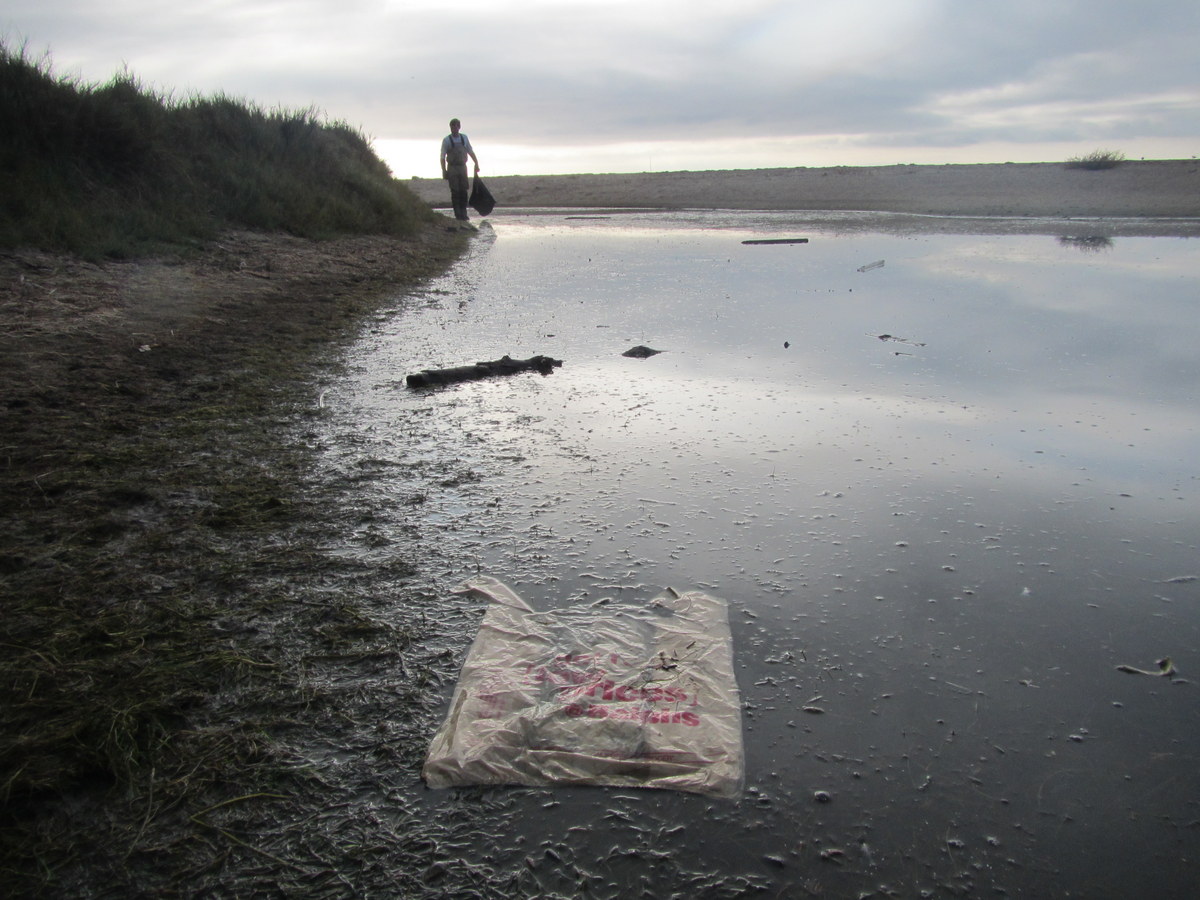 Plastic bags are a blight on our beaches, creeks and oceans, and can have devastating effects on marine life.  (Click here to learn more about the plastic bag problem.)  Channelkeeper led the charge on the South Coast to stem the tide of plastic bags to our ocean and landfills. We employed a complementary mix of advocacy, outreach and education to compel local municipalities, businesses and citizens to reduce the use of disposable plastic (and paper) shopping bags and to instigate a shift to reusable bags.
California Bans the Plastic Bag!
In 2014, a statewide bag ban was adopted by the California Legislature and signed by Governor Brown, making California the first state in the nation to adopt a law to ban plastic bags at grocery retailers. Unfortunately, however, the plastic bag industry spent big money to fight the law.  They spent $3.1 million (almost all by out-of-state companies) to collect signatures to place a referendum to overturn the bag ban law on the November 2016 ballot. They also spent huge sums to sway voters, and even sponsored a second plastic bag measure on the ballot, Proposition 65, which would have required that all fees collected for paper carryout bags be directed to a restricted fund with an unclear purpose.  Proposition 65 was not placed on the ballot to help the environment, but simply to confuse voters and split the support of grocers and environmentalists who worked together to get the statewide bag ban bill passed.
In November 2016, California voters upheld the nation's first state law to ban plastic grocery bags and the statewide bag ban went into effect in December 2016.
Locally, Channelkeeper has advocated for local municipalities to enact ordinances to ban single-use plastic bags since 2008.  In 2012, the City of Carpinteria was the first to adopt a bag ban ordinance in Santa Barbara County, and Ojai was the first (and only) in Ventura County.   Thanks to efforts by Beach Erosion Authority for Clean Oceans and Nourishment (BEACON), a joint powers agency, a region-wide Environmental Impact Report (EIR) was completed in 2012 to analyze the environmental impacts of plastic bag bans (and to fend off lawsuits by the plastic bag industry).  Shortly thereafter the City of Santa Barbara adopted its bag ban, which went into effect in May 2014.  Santa Barbara County adopted a bag ban ordinance in July 2015.  All together, these local bag bans have eliminated the use of more than 100 million plastic bags annually!
In addition to our advocacy, in 2009 Channelkeeper was one of the founders of the Where's Your Bag?" campaign, a partnership between Channelkeeper, the City of Santa Barbara Environmental Services Department, Community Environmental Council and the California Grocers Association.  The "Where's Your Bag" campaign worked to raise public awareness about the negative environmental impacts of disposable shopping bags and to promote a shift to reusable bags. We distributed thousands of free reusable bags to community members, aired several ads and public service announcements, and created and distributed a suite of educational materials to participating grocery stores.