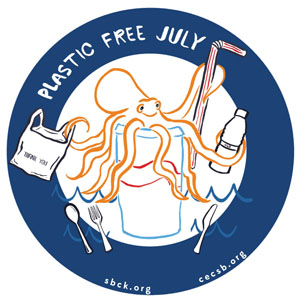 Take the Pledge: Go Plastic Free this July!
Join Channelkeeper and Community Environmental Council in Santa Barbara, and partners around the world, in the challenge to 'Choose to Refuse' single-use plastics during the month of July.  We can all be part of the solution to plastic pollution! The challenge is simple; commit to refusing ALL single-use plastic, or try the top 4: plastic bags, water bottles, takeaway coffee cups and straws.
Send us an email with your pledge to be Plastic Free for July! The first 10 folks who sign up will receive a fun reusable package from SBCK and CEC!  

Skip the (Plastic) Straw, SB !

Americ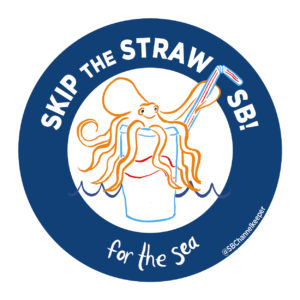 ans use 500 million plastic straws a day – that's a lot of single-use plastic making its way to the landfill or, even worse, into our creeks, beaches and ocean, where it can impact wildlife.  In California Coastal Cleanup Day has tracked the amount of trash collected since 1992 and plastic straws (and stirrers) are the 6th most common item collected.  Many of us have come to expect plastic straws in every drink, but straws are used for mere minutes and with a small behavior change, we can reduce this significant source of plastic pollution.
Not only will encouraging people to skip the plastic straw help businesses save money by reducing the numbers of straws they give away, it will also help reduce our community's environmental footprint.  If people find that they need of a straw for any reason, SBCK and CEC are encouraging them to consider bringing and using reusable straws; there are many great alternatives made from bamboo, glass, or metal that are available and easily washable.
Please join SBCK and CEC in skipping the plastic straw and other single-use plastics!
Participate in the Skip the Straw, SB Program!

If you're a local business interested in participating in our Skip the Straw Program, please contact either SBCK or CEC and we will follow up with you.  The Skip the Straw Program asks that businesses commit to providing straws upon request only and that they print on the menu, "Straws Available on Request."  Businesses are also encouraged to eventually switch away from using plastic straws and instead offer on request alternatives including paper or reusable straws.  We have information and resources about plastic straw alternatives that we are happy to share.  Many Santa Barbara businesses that have already started offering straws only on request have found that straw use decreases significantly and are saving money by not having to order as many straws.  The Skip the Straw Program provides table tents that businesses can use to educate their customers about straws available upon request and plastic straw pollution.
Businesses that sign the pledge to provide straws on request only will also be featured as a participating business on The Last Plastic Straw website, linking local businesses to a global movement.  We will also promote local businesses through our organizations' social media channels.
Local Participating Businesses 
#SkipTheStrawDay  #skiptheplasticstraw #plasticpollutes
National Skip the Straw Day – On Friday, February 23, in honor of National Skip the Straw Day, Santa Barbara  Channelkeeper (SBCK) and Community Environmental Council (CEC) shared resources with local businesses to encourage people to skip the plastic straw.  The groups have created a campaign logo, information cards about straw use and environmental impacts of straw use, and table tent cards that food service businesses can put on tables to educate customers about straw use and note that straws are only available upon request.  The groups are working with local students from Adams Elementary School, an Ocean Guardian school, to launch a city-wide straw upon request campaign in the coming months.
National Skip the Straw Day was founded by students in Michigan in 2017 to encourage people to give up the plastic straw habit and help spread awareness about the damage caused by single-use plastic.  The Registrar at National Day Calendar declared the day to be observed annually on the fourth Friday in February.