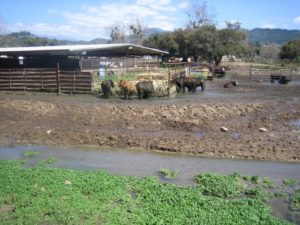 The Ventura River watershed is considered by many to be a desirable place to live in large part for its rural, agricultural character. Many businesses and residents keep cattle, horses, and other livestock on their property. Improperly maintained livestock enclosures can become a significant source of pollution if animal waste is allowed to run off the site and enter the river or its tributaries.
Channelkeeper has worked over the years to highlight this problem in the Ventura River watershed and to identify specific facilities that we believe are significant sources of pollution. Some of these monitoring efforts are highlighted in Episode 1 of the Watchdog Diaries.
Because animal husbandry is considered to be a form of agriculture, it is largely exempt from regulations that apply to other sources of pollution. Channelkeeper worked hard to ensure that livestock enclosures were included in the Total Maximum Daily Load (TMDL) developed to address the algae impairment in the Ventura River. As a result, owners of livestock enclosures are now required to make improvements to their facilities to prevent animal waste from polluting the Ventura River.