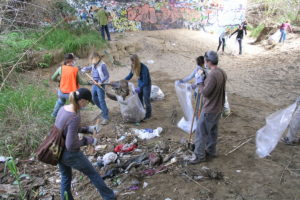 Despite legal requirements to keep trash from accumulating in the Ventura River, local agencies have for years allowed individuals to reside in and dump tens of thousands of pounds of trash and human waste in the Ventura River bottom each year.  In 2011, Channelkeeper made this issue a key priority as we began working to raise awareness about this out-of-sight, out-of-mind environmental tragedy and to encourage local agencies to provide more humane, year-round shelter alternatives and enforce existing laws that prohibit littering.
By conducting a series of trash and homeless encampment surveys, we documented tons of garbage, active and abandoned encampments, and human waste being deposited in the river.  We publicized the results in written reports, press releases, and in an eye-opening episode of The Watchdog Diaries . We also filed official complaints with the State over concerns that water quality standards were not being met.
Due in large part to our efforts to bring attention to this issue and to leverage regulatory pressure for non-compliance with water quality standards, local agencies launched an effort in the summer of 2012 to begin cleaning up the river in coordination with community groups.  As a result of this effort, and the efforts of private river bottom property landowners such as the Ventura Hillsides Conservancy, tremendous progress has been made.
Channelkeeper's vision is for the Ventura River Estuary to one day serve as a starting point for a Ventura River Parkway, a concept that has been widely endorsed by local public officials, agencies, and community groups, and we are working actively as a member of the Friends of the Ventura River Coalition to make this vision a reality. We believe that a parkway project that restores and transforms the lower river into a managed recreational resource for the local community may be the only long-term practical solution to the egregious trash problem.  In the meantime, we continue our work to monitor conditions in the river and to pressure local agencies to keep the Ventura River from becoming a landfill.