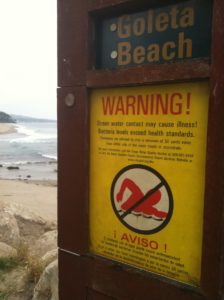 View current Rincon and Campus Point bacteria results here!
Santa Barbara Channelkeeper preserved a critical public health service when we took over weekly beach water quality sampling from Santa Barbara County Environmental Health Services in the winter of 2008-2009.
California State law requires local health officials to conduct weekly bacteria sampling, from April 1 to October 31, at high visitation beaches and to warn the public if State bacteriological standards are exceeded. From 1996-2008, Santa Barbara County tested its beaches for indicator bacteria every week year-round. However, government budget cuts in 2008 forced the County to scale back and only conduct the required monitoring from April-October.
Recognizing the importance of beach water quality information to local surfers and other ocean users year round, Channelkeeper stepped up and picked up the County's slack. We wanted ensure that the public continued to have access to information about the safety of recreating at local beaches year round while also maintaining the continuity of the dataset for future regulatory efforts to improve beach water quality. Following the winter of 2008-2009, Channelkeeper continued to fill the monitoring gap by conducting weekly beach bacteria sampling through the winter months with support from the County.
Every Monday, water samples are collected at the 16 most popular beaches in southern Santa Barbara County to monitor levels of fecal indicator bacteria to determine whether they exceed water quality standards designed to protect public health. While indicator bacteria do not in themselves necessarily cause illness in humans, several studies have shown that as indicator bacteria levels increase, the rate of swimming-related illness also increases. Human contact with water that has elevated levels of bacteria creates a higher risk of contracting illnesses such as stomach flu, ear infections, upper respiratory infections and skin rashes.
As soon as the sampling results are available, we share them with the public so that swimmers, surfers, and beach-goers have access to timely information about the safety of recreating at their local beaches.
The weekly results can be viewed here.
Channelkeeper also posts the weekly beach bacteria testing results on the Waterkeeper Swim Guide App, which is available for free for both Android and iPhones.  The Swim Guide App is a user-friendly tool that helps surfers, swimmers and beach-goers find current information about water quality at more than 400 beaches across California. It can also be used to report pollution immediately to the nearest local Waterkeeper. Download the Swim Guide App today at www.theswimguide.org.