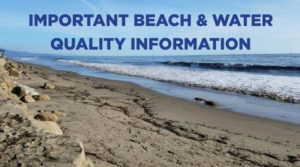 Many of you have expressed concern surrounding both the placement of debris on our local beaches and when it's safe to get back in the water.
In these difficult times following the devastating mudslides and floods, massive amounts of sediment and debris must be removed in order to protect people and property that remain in potential flooding areas. Channelkeeper is in communication with authorities conducting these emergency operations. Sediment being deposited is from debris basins, creeks and roads, and is material that ultimately would have gone to the ocean. Authorities are monitoring each truckload to ensure that only sediment is deposited and any additional debris is removed. Due to the forecast of eminent rains, it's imperative to remove this sediment from the debris basins to mitigate future flooding and protect infrastructure and public safety.
Channelkeeper is monitoring the issue and is in touch with local authorities and will be following the issue closely in the coming weeks.
Regarding a timeline for when it's safe to reenter the 
water
, 
County Public Health
 has closed all beaches for public recreation until further notice. The Public Health Department will determine an appropriate time for the next sampling event that will yield new information to inform the decision whether local beaches should be reopened to public use.
Our thoughts remain with those who have been deeply impacted by this tragic event and we want to express our sincere gratitude to the first responders and emergency works who are out on the front lines.