BACTERIA RESULTS FROM 2/17/18 UPDATED BELOW
CLICK HERE FOR INFORMATION ON MUD SAMPLING FOR BIOTOXICITY, HEAVY METALS, AND PAHs RESULTS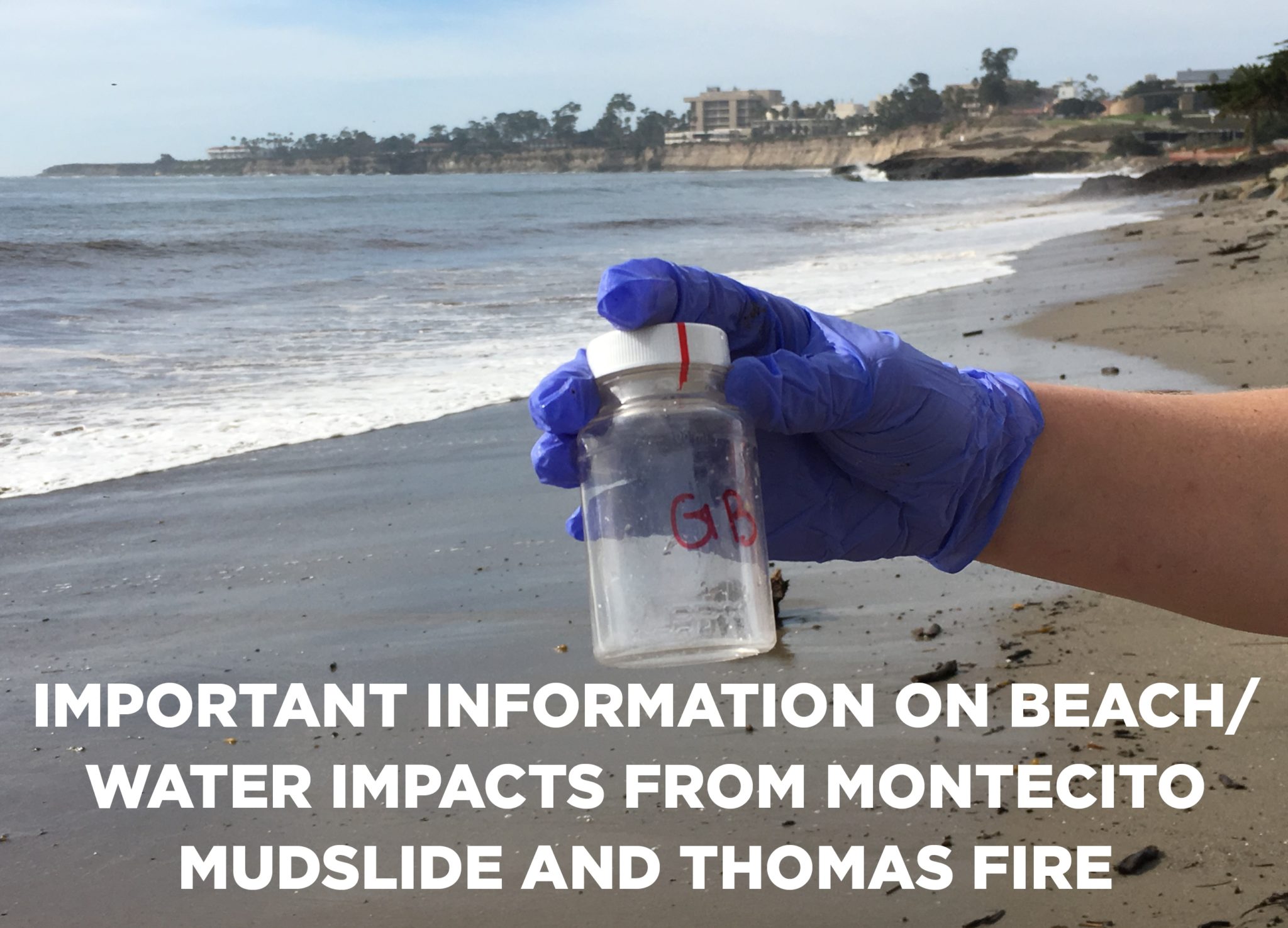 Click here for updated bacteria sampling from Rincon and Campus Point.
We've put together the following information that we hope will be useful, and will continue to post information to our social media feeds, website and email lists as we learn more. If you do not receive our emails, please subscribe here.
Some background on rainfall, erosion, and flood control
During storms, hillsides and landscapes erode and transport sediment to local waterways. Much of this material that gets into creeks and rivers is flushed out into the ocean naturally. This natural process generates the material that sandy beaches along the coastline are made of.
However, not all sediment makes its way to the ocean. Much of it gets deposited on stream banks and in channels and marshes.  The process of erosion and sediment deposition is what drives the meandering movement of rivers and streams across a floodplain over time.
In modern times, however, humans have built residential, commercial and industrial developments in floodplains. Rivers and stream channels have been constricted and altered to prevent stream meandering and flooding from occurring. The County Flood Control agency actively manages all local streams to minimize the risk of flooding in order to prevent damage to life and property.  Activities such as dredging and channel clearing are regularly conducted in accordance with an Annual Flood Control Maintenance Plan, which is reviewed and approved by various State and Federal regulatory agencies. Flood control activities – though widely viewed as essential – can be extremely disruptive to aquatic ecosystems, and Channelkeeper and other watchdog groups expend substantial effort to minimize and/or ameliorate these impacts.
Where is debris being deposited?
The devastating storm, flood and mudslide that occurred in Montecito on January 9, 2018 left Highway 101, other roads, bridges, creeks, and marshes clogged with mud and debris. Local, State, and Federal agencies are currently clearing these areas. Some mud mixed with debris is being transported to Ventura County Fairgrounds as well as a facility in Buellton, where it is sorted and debris is separated and removed from the mud. The remaining sediment is currently being transported to temporary inland storage locations as well as an existing permitted sediment disposal site at Goleta Beach. Sediment is also being dredged out of the Carpinteria Salt Marsh to reduce flooding risk and is currently being deposited at a permitted disposal site on Carpinteria Beach at Ash Street. According to County Flood Control officials, Goleta and Carpinteria Beaches were selected for disposal because these sites are permitted for sediment disposal, possess adequate facilities for truck access, and have been used for prior emergency and routine disposal activities for decades. 
What is the County doing to monitor material?
County officials are currently conducting visual monitoring of the material being deposited on the beaches to ensure that it does not contain structural and woody debris. Both the County Environmental Health Department and Channelkeeper are also conducting water quality sampling in the surf zone of surrounding beaches to test for fecal indicator bacteria, because there is concern about untreated sewage from damage to infrastructure caused by the mudslide making its way to the ocean. The County announced on January 16th that it is increasing the frequency of their sampling to bi-weekly, and Channelkeeper has resumed our own beach bacteria sampling every other day thanks to funding from UCSB Associated Students Coastal Fund. The County's results can be viewed here, and Santa Barbara County Supervisor Janet Wolf's Discretionary Fund.
On January 30th the County released a public health advisory to "avoid consuming raw fish and raw shellfish caught close to ocean waters where bacterial levels continue to be elevated, such as Goleta Beach and Carpinteria State Beach."
Is the mud "toxic"?
Runoff from areas burned by wildfire can carry elevated levels of heavy metals and organic compounds that may be toxic to wildlife. In this case, the destruction of homes, utilities, and other structures caused by fire and flooding also generated additional contamination. While such contamination is present, the vast majority of the accumulated material is naturally eroded sediment from the undeveloped landscape in the upper watersheds upstream of developed areas. Whether or not the mud being deposited on beaches is "toxic" depends on many factors, including where the material came from, the type of contaminants that may be present, the concentration of contaminants, the pathway of exposure to a receptor, and the vulnerability of the receptor to the particular contaminants.
If not toxic, is deposition of mud still impactful?
Possibly. Dumping mud on the beach can smother local sandy beach habitat and cause increased turbidity (cloudiness or muddiness) in the water column, which can impact plants and wildlife offshore.  It is also highly possible that untreated sewage may be present in the mud being cleared from some areas.
Dredging and channel clearing activities themselves can most definitely be impactful and result in long-lasting impacts to aquatic ecosystems. Channelkeeper has and will continue to voice our concerns about these impacts to public officials, and we are doing our best to monitor channel clearing activities.
What is Channelkeeper doing to monitor the situation?
Channelkeeper collected a sample of deposited mud from both Carpinteria and Goleta Beaches on January 16th and 17th to have them tested for bio-toxicity, heavy metals, and Polyaromatic Hydrocarbons (byproducts of wildfires). The samples are being processed by a professional analytical laboratory and the results should be available in the next week.
Channelkeeper has also initiated fecal indicator bacteria sampling at beaches surrounding mud disposal sites (see above), thanks to funding provided by UCSB Associated Students Coastal Fund, the Fund for Santa Barbara, and Santa Barbara County Supervisor Janet Wolf's Discretionary Fund.

We are visiting and monitoring the disposal sites and activities regularly to verify that structural debris is not being dumped on the beaches.
We are also in close communication with Flood Control officials to track dredging and channel clearing operations.
Wildfires and flooding are natural occurrences that can significantly alter and impact aquatic ecosystems. Dredging and dumping are unnatural activities that can also cause ecological impacts. Channelkeeper is working hard and doing everything we can to evaluate the impacts of the disaster clean-up effort in comparison to the magnitude of the impacts caused naturally by the wildfires and subsequent flooding. We are also doing our best to balance the need to minimize environmental impacts with the necessity of actions being taken to recover victims, reopen roads, repair essential infrastructure (i.e. water and sewer lines), and minimize eminent risks to public safety from future flooding. We will continue to coordinate with local agencies and keep the public informed as soon as the results of our mud and beach water sampling are available. Thank you for your concern and support for our environment and our community in this very difficult time.