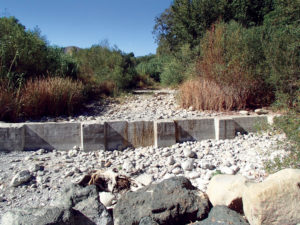 Santa Barbara Channelkeeper filed a lawsuit on Friday, September 19th against the State Water Resources Control Board to protect the Ventura River and the people, animals and plants that depend on it. Even though the State of California has designated the river as impaired because of excessive pumping and diversions, the City of Ventura has for decades pumped and diverted hundreds of millions of gallons of water from the river each year with little regard for the consequences. This consistent over-pumping and diversion has put the health of the river – and the life it sustains – in serious jeopardy.
The California Constitution and the Water Code mandate the State Water Board to prevent the waste and unreasonable use of the state's waters, and to protect those waters as public trust resources. Unfortunately, the Board has failed to fulfill this mandatory duty for the Ventura River. Channelkeeper's lawsuit seeks to compel the State Water Board to conduct a "Reasonable Use Analysis" of the City of Ventura's use of the Ventura River. Channelkeeper hopes that a Reasonable Use Analysis would guide the City in better balancing the various demands for the river's water with the health and vitality of the river and lead to more sustainable and integrated ways to meet and manage the community's water needs.
Click here to read the press release.