Climate change is causing our oceans to become more acidic. As levels of carbon dioxide (CO2) increase in our atmosphere, more and more carbon is absorbed by our oceans. In water, CO2 is converted to carbonic acid, which lowers the ocean's pH. That's bad news for most creatures that live in the ocean, many of which are sensitive to subtle changes in acidity.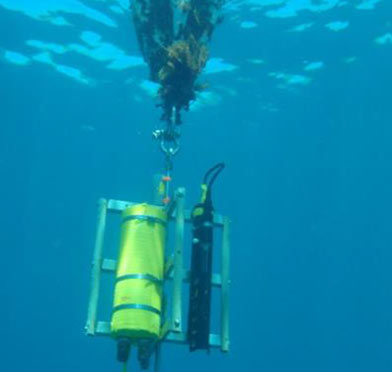 It's especially problematic for shell-forming animals like corals, crabs, oysters, and urchins, because ocean acidification robs seawater of the compounds they need to build shells and skeletons, impairing their development and, ultimately, their survival. If shellfish populations collapse, the animals that eat them will also suffer, with ripple effects throughout the ocean's food web.
Channelkeeper is working in partnership with researchers at UCSB in an effort to understand how climate change and ocean acidification will impact the Santa Barbara Channel. The Channel is a hub for ocean acidification research, and several ocean pH monitoring stations are currently in place to continuously measure changes in acidity throughout the Channel. We are aiding research being done by Dr. Gretchen Hofmann at UCSB by using our boat to collect regular samples at coastal pH sensors so they can be properly calibrated. We also purchased a pH monitoring station that was deployed at Naples Reef, which is important to researchers because of its thriving kelp forest ecosystem, its status as a Marine Protected Area, and its proximity to concurrent biological monitoring efforts. Through this research, we hope to learn more about how species in the Santa Barbara Channel will adapt to this globally significant phenomenon.