Anacapa Island Marine Reserve &
State Marine Conservation Area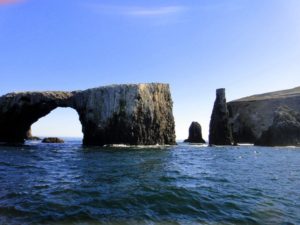 The Channel Islands are often considered the "Galapagos of North America" and the diversity at Anacapa Island is one of the primary reasons for this title. The north side of Anacapa is designated as an MPA (marine reserve to the east and marine conservation area to the west). Known for stellar visibility, the lush kelp forest here hosts sheephead, garibaldi, bat rays, moray eels, harmless horn and leopard sharks, sea lions, harbor seals, sea stars, kelp bass, sheep crab, brightly colored nudibranchs, and if you are really lucky you may even spot a black sea bass. Kayakers will get to experience unique sea caves and the iconic Arch Rock, the symbol of the Channel Islands National Park. Divers can take a swim through two underwater arches (east end and west end) as well. Access to this island MPA is provided by Island Packers, local dive operators, or by private boat charters.
Recreational Opportunities
Diving and Snorkeling
Island Packers provides boat transportation to the Landing Cove at East Anacapa Island and can transport snorkeling and dive gear (limit two tanks per person).
Several local dive companies visit Anacapa and Santa Cruz Island that depart from Santa Barbara, Ventura, and Channel Islands Harbors. Specific destinations vary for these outfitters so coordinate with them directly to request a dive at Anacapa's MPAs.
Wreck Diving
Located within Anacapa's MPA, Grumman TBF Avenger is a WWII Navy torpedo bomber that was on a training mission in the early 50's along with 4 other planes. It hit another plane in the formation and they both crashed. The Avenger went down on the front side of east Anacapa and had no loss of life. The other plane went down on the back side of Anacapa with loss of life and has never been found. The Avenger sits in about 120' in sand about 40' from a nice reef and can have visibility of 20'-60'. After all the years you can still tell it's a plane. It has attracted fish around it and is an excellent deep dive. Advanced divers can contact local dive companies to inquire about trips to dive the wreck.
Kayaking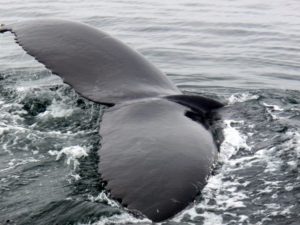 Wildlife Tours and Bird Watching
Anacapa Island hosts the largest breeding colony of Western gulls and California Brown pelicans in the world. While crossing the Santa Barbara Channel visitors are also likely to see dolphins, seals, and sea lions, and the lucky visitor may encounter one of the several species of whales that visit our area.
*Special Opportunity*
During the summer, the Channel Islands National Park hosts "Live Dives" in the Landing Cove. Visitors that travel with Island Packers on specific days can view the program from the dock in a rare opportunity to see what's going on underwater in an MPA without even getting wet. Park rangers wearing special microphone-equipped dive masks descend into the kelp forest camera in hand. The divers explain what the camera is revealing and answer visitors' questions about the kelp forest and its many inhabitants, from lobsters to spiny sea urchins and brightly colored fish. Check the Live Dive Website for when this program is available.
You can also check out a live underwater video feed to see what is swimming around in the MPA right now.
Public Access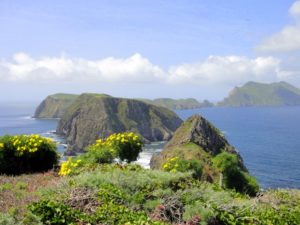 As this MPA is located at the Channel Islands, access is only available by boat.
Island Packers provides boat transportation from the Channel Islands Harbor in Oxnard to the Landing Cove at Anacapa Island. Join them for a landing trip to hike on Anacapa Island and snorkel, dive, or kayak within the MPA. Alternatively you can take a non-landing island wildlife cruise to see the stunning cliffs, Arch Rock, and the seal and sea lion rookery above the MPA's waters.
Other boat transportation options include local dive companies, charter boats, and private boats.
­East End: Take of all living marine resources is prohibited.
West End: Take of all living marine resources is prohibited except for the recreational take of lobster and pelagic finfish and the commercial take of spiny lobster.
Sources and Useful Links:
Channel Islands Dive Adventures
Channel Islands National Park – Live Dive
Department of Fish and Wildlife