The Santa Barbara Channel is rich in petroleum, which has been mined here for over 100 years. The Channel was home to the first offshore oil well in Summerland in 1896. The first platform, Hazel, was erected in the Channel in 1958 two miles offshore of Summerland. Today, oil and gas production in the Channel occurs on 19 offshore oil platforms and is transported to shore via pipeline. There are also a number of onshore oil and gas production and processing facilities in our area.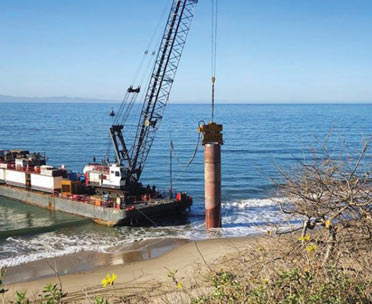 Water quality threats from oil and gas production include releases of oil, produced water, drilling muds, and wastewater from oil platforms, discharges of ballast water, oily bilge water and wastewater from vessels that service the platforms, and deposition of air pollutants from the platforms and support vessels. Produced water, although treated, can contain high concentrations of salts, metals, hydrocarbon and organic compounds and sulfur that can harm marine life. Drilling fluids and cuttings, which are characterized by EPA as the major sources of pollutants discharged from drilling operations, can smother larvae, and can reduce the growth of scallops and lobsters and impair their ability to function. In addition, the risk of major oil spills is ever-present.
On January 28, 1969, Platform A in the Channel experienced an uncontrolled blowout which lasted for eight days and which spilled 100,000 barrels of crude oil over the course of several months, impacting over forty miles of coastline. This catastrophe was the catalyst for the emergence of an active environmental movement in the Santa Barbara area, what many cite as the birth of the modern environmental movement in the United States.
Another tragic oil spill blackened our shores when the Plains All American Pipeline ruptured on May 19, 2015, spilling an estimated 143,000 gallons of heavy crude oil onto the pristine Gaviota Coast, including at least 21,000 gallons into the Santa Barbara Channel. Click here for more information on that spill, and here for the Oil Spill Resource Guide we created in its aftermath.
The State of California has recognized the significant risks of offshore oil development, and has not issued a new lease in State waters since the massive 1969 oil spill in the Santa Barbara Channel. California enacted legislation in 2018 that prohibits the State Lands Commission from permitting any new leases or infrastructure that would support new or expanded oil development in Federal waters (greater than three miles from shore). These measures act as major roadblocks to any expansion of oil development in the Federal waters off our coast and will help protect California's treasured coastal resources.
Channelkeeper weighs in on proposals for new oil and gas projects by reviewing and commenting on Environmental Impact Reports and other associated documents, including for the imminent decommissioning of several platforms in the Santa Barbara Channel. We review and comment on discharge permits for oil and gas facilities and conduct routine monitoring of discharges from these facilities. We also track and support the capping of legacy oil wells and conduct quarterly monitoring of tar balls on 14 beaches along our coast.
Channelkeeper and EDC are currently suing the federal government for permitting fracking from offshore oil platforms without conducting the legally required review of potential impacts on the environment and endangered species. Click here for more information.
Below are some examples of our past success in ensuring that oil and gas operations do not harm water quality and the aquatic environment.
Oil Platforms:
Channelkeeper and our allies won a lawsuit against EPA for its failure to issue sufficiently stringent Clean Water Act permits for the 20 oil platforms off the central and southern California coast. As a result, EPA updated the permit, which now requires platform operators to meet state and federal clean water standards, submit to independent third party monitoring, and conduct analyses of alternatives to discharging their wastewater into the ocean.
Oil Leases:
Channelkeeper and our partners prevailed in a legal challenge against the federal government's finding that extending the 36 undeveloped federal oil leases off our shores would pose no significant risk to the environment. Ultimately, our victory resulted in the extinguishment of 30 of the 36 leases.
Paredon Initiative:
Channelkeeper played a lead role in the community organizing and education efforts that led to the 2010 defeat of Measure J, Venoco's attempt to push an environmentally harmful oil development project onto the Carpinteria community via a ballot initiative. Prior to that we submitted extensive written comments and oral testimony on the negative environmental impacts of the proposed project on water quality and aquatic habitats.
Clearwater Port LNG Project:
Channelkeeper and EDC stopped NorthernStar Natural Gas' proposal to put a Liquefied Natural Gas (LNG) terminal in the Santa Barbara Channel. Our in depth analysis of the "Clearwater Port" proposal identified numerous potential impacts to marine mammals, public safety and air and water quality, leading regulatory agencies to demand extensive additional information about the project, which ultimately led to the termination of the project application.
Tar Ball Monitoring Program:
In the wake of the Refugio Oil Spill, Channelkeeper launched a new tar ball monitoring program to record standardized data characterizing tar ball coverage on 14 beaches along the Santa Barbara Channel, which can be used to differentiate oil from spills and from natural seeps as well as to help identify new spills in the future.