JUNE LOBSTER TRAP
BEACH CLEANUP EVENT
June 19, 9:00 am – 1:30 pm
Ellwood Beach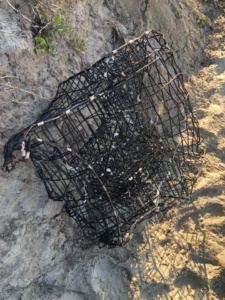 Thank you to everyone who participated in our derelict lobster trap survey in May! We were able to identify 44 traps that have washed ashore between Haskell's Beach and Hammonds Beach.  The highest concentration (38 traps!) is located between Haskell's and Ellwood Beach. 
Now it's time to get those traps off of the beach! We are looking for volunteers to join us on June 19 between 9 am and 1:30 pm at Ellwood Beach to remove the derelict traps. 
Lobster traps are heavy and cumbersome to haul away so we've arranged for their transport. However, we will need your help to dislodge the traps and prepare them for removal.
Steps to Participate:
Please Bring:
Work gloves
Water
Snacks
Closed-Toe shoes
Long Pants/Long Sleeved Shirt
Sun hat/Sunscreen
Meet at Ellwood Mesa Beach Parking lot on Hollister Ave., Goleta. 
We will then walk 0.8 miles along the trail, over the bluff, and down to the beach. Once on the beach, we will be working a 0.6 mile stretch of beach west/upcoast/towards Haskell's. See you there! 
Thank you!