Channelkeeper's Annual Student Art Show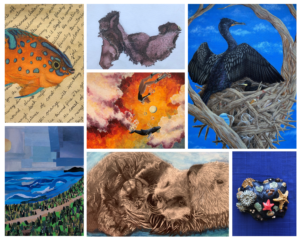 Each year, Channelkeeper's Student Art Show celebrates the connection between young people and the ocean.
High school students from Carpinteria to Lompoc are invited to create and submit their interpretations of what the Santa Barbara Channel means to them. The artwork honors the remarkable beauty and biodiversity of the Santa Barbara Channel, and it also inspires our community to protect it.
2023 Student Art Show
Channelkeeper is pleased to present its 20th annual student art show on May 4, 2023. This year's show, artist reception, and award ceremony will take place on May 4th at the Jodi House at 625 Chapala Street in Santa Barbara from 5 to 8 pm.
The show, themed "What the Channel Means to Me," aims to inspire local students to reflect on their connection to the Santa Barbara Channel and to create art that celebrates the area's natural beauty and diversity while inspiring others in our community.
The contest is open to high school students from Carpinteria to Goleta and in the past has included work from students attending Bishop Diego, Carpinteria, Dos Pueblos, San Marcos, and Santa Barbara high schools. Local artists and past participating high school art teachers Mike Irwin and Judith Raimondi will jury the show and select pieces based on creativity, technical skill, sense of style, and interpretation of the theme.
The student award-winners will be announced on May 4th at the artist reception and award ceremony around 6:30 pm. The awards include generous cash prizes donated by long-time student art show sponsor Trillium Enterprises, Inc. and the City of Goleta Grant Program.
Student artwork is due on Monday, April 24 by 5 pm at the Channelkeeper office (714 Bond Ave).