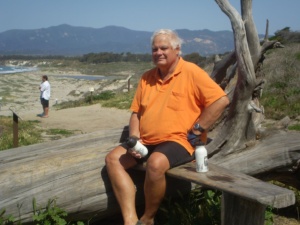 Al Leydecker began his work with Santa Barbara Channelkeeper in the fall of 2000, both as a volunteer and as the stream-team's science advisor. He was actively engaged in research on the Ventura River and Goleta streams for over fifteen years. The reports, articles, and essays in this collection document his interests, thoughts, and conclusions. Almost all of them were written for his fellow volunteers, to help them understand what was happening and why long-term monitoring was so important. They are mostly written in a conversational style, unlike scientific papers, to further this aim. And, as he's always believed that photos can often tell a better story than words, there are lots of pictures.  
Al is now retired but until about 2016, he worked part-time in research and as an Environmental and Engineering consultant. He holds a Ph.D. in Biology from the University of California, Santa Barbara, a B.S. in Civil Engineering from the University of Tennessee, and is a licensed Professional Engineer. 
After serving in the Army, Al returned to college to finish up his engineering degree. He's had experience as a pig farmer, storekeeper and in various engineering positions with the U.S.D. A Forest Service; served as a County Supervisor in Mono County and worked as a Civil Engineer in numerous jobs and private practice. In 1992 he retuned to school to complete a doctorate at UCSB studying hydrology and biogeochemistry; most of his research dealt with acid rain and biogeochemical processes in snow-covered watershed in the Sierra Nevada.
Post-graduate work included more than seven years of research on nutrient export from the south coast's streams and rivers as part of the Santa Barbara Channel Long Term Ecological Research Project (SBC-LTER). He is one of the co-authors of the 2008 UCSB study of the algal problem on the Ventura River.
Channelkeeper is deeply grateful for the many years of service and guidance that Al has provided to the program, including the valuable research and analysis documented in the articles below.