Get the skinny before you dip, because a day at the beach shouldn't make you sick!
Weekly Beach Water Quality Results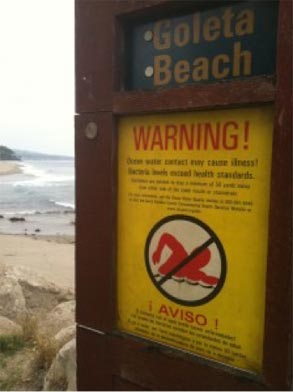 Beaches across Santa Barbara and Ventura counties are heavily used year-round for recreation by surfers, swimmers, paddlers and other ocean enthusiasts. Unfortunately, however, many of these beaches are plagued by excessive levels of bacteria that threaten public health.
California has water quality standards for certain fecal bacteria (total coliform, fecal coliform and enterococcus) against which the safety of our beaches for human recreation is measured. These "indicator bacteria" do not in themselves cause illness in humans, but several studies have shown that as indicator bacteria levels increase, the rate of swimming-associated illness also increases. Beachgoers who come in contact with water that has elevated bacteria levels have a much higher risk of contracting illnesses such as stomach flu, ear infections, upper respiratory infections and skin rashes.
State law requires county health officials to conduct weekly bacteria sampling, from April 1 to October 31, at high visitation beaches and to warn the public if water quality standards for fecal indicator bacteria are exceeded. Typically, both Santa Barbara and Ventura counties sample their beaches once a week year-round. However, funding for this effort has been cut in the past, and Channelkeeper stepped up several times to fill the gap so that beach goers can make informed decisions about recreating at the beach and avoid putting their health at risk.
Channelkeeper also stepped up to test water quality at Carpinteria and Goleta beaches when Santa Barbara County began dumping mud from the Montecito debris flows and subsequent dredging operations, and to share our results immediately with the public. We believe the public has the right to timely information about water quality at their beaches.
Currently, Channelkeeper samples water quality at Rincon Beach on a weekly basis (on Thursdays) plus after rain events.
View our current results:
View the Map to show where samples are taken.
Many thanks to Island Brewing Company
for hosting our Rincon sampling lab and a sign with our current results.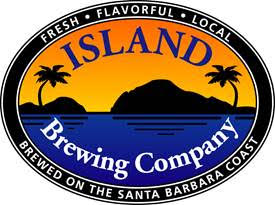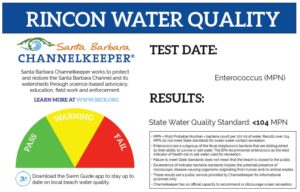 Our samples supplement the County's weekly samples which are taken on Mondays.
Channelkeeper also posts current beach sampling results on the free Waterkeeper Swim Guide App (depicted in the map at the top of this page), which helps beach-goers find current information about water quality at more than 7,000 beaches across North America. It can also be used to report pollution immediately to the nearest local Waterkeeper. Click below to view the weekly sampling results available, and download the Swim Guide App today to get the skinny before you dip, because a day at the beach shouldn't make you sick!