The Channelkeeper crew is a super smart, savvy team of individuals who work together to achieve a common goal we're deeply passionate about – clean water.
Ted Morton, Executive Director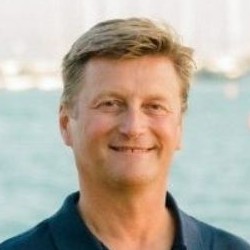 Ted has more than 25 years of experience in ocean conservation policy and leadership. Ted previously directed The Pew Charitable Trusts oceans' programmatic work at the federal level and directed a campaign at the Environmental Defense Fund to improve the international trade of coral reef wildlife. He served as the vice president of organizational effectiveness and operations at SeaWeb, director of operations at the Pew Institute for Ocean Science, and federal policy director for Oceana. As policy director at American Oceans Campaign, he was instrumental in the 2000 passage of legislation that strengthened water testing and public notification programs nationwide. He has also led several ocean and clean water advocacy coalitions throughout his career.
He holds a bachelor's degree in political science from Furman University and a Juris Doctor from the University of Georgia School of Law. Ted grew up in Atlanta and in his free time, he enjoys traveling, running, hiking, swimming, and cheering on the Georgia Bulldogs.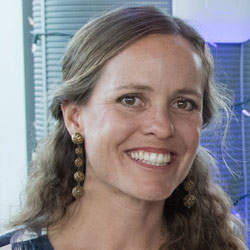 Penny Owens, Education & Community Outreach Director
Penny Owens has led Channelkeeper's education programs since she joined our team in 2004. She also manages Channelkeeper's single-use plastic reduction initiative and our MPA Watch program. Prior to her work with Channelkeeper, Penny worked as an educator for several organizations and as a research diver in California's kelp forests. She has a bachelor's degree in Biology and Environmental Studies from UC Santa Cruz. Penny's knowledge of marine and coastal ecosystems is a natural complement to her diverse field experiences in environmental education. In her free time, she enjoys being outdoors in the ocean, mountains, or among plants.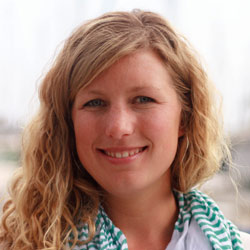 Molly Troup, Science & Program Manager
Molly Troup joined the Channelkeeper crew in 2018. She assists with the development and implementation of Channelkeeper's advocacy, monitoring, public education, and outreach activities. Molly has a Master's in Environmental Science and Management from UCSB's Bren School of Environmental Science and Management, a background in coastal planning, and a fierce drive to inspire new environmental stewards through her work at Channelkeeper. When she's not in our creeks taking water samples or giving public testimony at hearings, Molly is out trail running in the mountains or paddle boarding along the coast.
Laura Sanchez, Communications Director
Laura is an accomplished communications professional who has led global marketing and communications teams in the renewable energy sector. As the former editor of Water Efficiency and Distributed Energy magazines, she has written extensively about water quality and resource conservation issues. She brings an abundance of strategic leadership, content development, and public relations expertise to support our communications initiatives. Laura earned her bachelor's degree from Middlebury College in Vermont and began her editorial career in Copenhagen, Denmark. A multi-generation Carpinterian, Laura grew up hopping rocks in Rincon Creek and playing in the waves at Padaro Beach. Laura is excited to use her communications expertise to advocate for clean water and to benefit our local community.
Trish Reynales, Development Associate
Trish Reynales is a longtime Santa Barbaran with a keen interest in marine conservation and a love of all things ocean. She learned to scuba dive in the Channel Islands decades ago, and teamed up with Channelkeeper in 2022 to help with fundraising goals. She brings far-reaching experience to the role, including a career in publishing that has taken her around the world. In her downtime, Trish likes to read, swim, and kayak.
Veronica Moran, Program & Administrative Assistant
Veronica joined the team in 2023 to provide administrative support and assist with Channelkeeper's monitoring, education and community engagement programs. She was first introduced to Channelkeeper in junior high while volunteering for an elementary school science education program. This experience sparked her love for environmental conservation. Veronica earned a bachelor's degree in Biology with a minor in Environmental Science from CSU Monterey Bay. In her free time, she enjoys reading, hiking, and going to the beach with her dog. 
We're looking for a Development Director! 
Santa Barbara Channelkeeper is currently seeking a Development Director to join our team. Development Director candidates should be passionate about the mission and work of Santa Barbara Channelkeeper, enthusiastic about fundraising, and experienced in asking for financial support from a diversity of sources. Click here to learn more.
Board of Directors
Santa Barbara Channelkeeper has a dedicated and diverse Board of Directors with a wide range of professional backgrounds, including finance, law, business, real estate, marketing, non-profit management, fundraising, and science. They volunteer their time and expertise and provide significant financial support to the organization.
Brad Newton
President, Founder & Principal, Newton Geo-Hydrology Consulting Services
Karen Telleen-Lawton
Vice-President, Principal, Decisive Path Fee-Only Financial Advisory

Kathleen Rogers
Secretary, Writer/Editor
Mimi DeGruy
Filmmaker and Writer
Ken Falstrom
Attorney (retired)
Nancy Kogevinas
Luxury Collection Director, Berkshire Hathaway HomeServices California
Sherry Madsen 
Vice President of Development, Planned Parenthood (retired)
Nick Mucha
Environmental Programs Manager, Patagonia

Jeff Phillips
Senior Federal Government Fish and Wildlife Biologist
Sarah Preston
Special Gifts & Events Officer, Cate School
Sarah Sikich
Senior Director of Development, Ecological & Environmental Sciences, UCSB
John Simpson
Owner, The Shopkeepers
Robert Warner
Professor, UCSB Department of Ecology, Evolution, and Marine Biology (retired)
Advisory Council
In addition to our Board of Directors, Santa Barbara Channelkeeper also has an Advisory Council which provides technical expertise, advice, recommendations and support to the Board of Directors, assists with fundraising, facilitates connections to key organizations and individuals, and serves as ambassadors for Channelkeeper in the community. Most of our Advisory Council members are former members of our Board of Directors.
David Anderson
Attorney, Land Trust for Santa Barbara County (retired)
Michael S. Brown
Principal, Brown & Wilmanns Environmental Consulting
Michael Crooke
Professor, Graziadio School of Business and Management, Pepperdine University
Dan Emmett
CEO, Douglas, Emmett & Co
Rae Emmett
Educator and Naturalist, Channel Islands Naturalist Corps
Steven Gaines
Dean, Bren School of Environmental Science & Management, University of California Santa Barbara
Holly Sherwin
Educator
Jack Stapelmann
Boat Builder and Philanthropist
Carla Tomson
Creative Design Consultant
Robert Wilkinson
Professor, UCSB Bren School of Environmental
Science and Management