The Channelkeeper crew is a super smart, savvy team of individuals who work together to achieve a common goal we're deeply passionate about – clean water.
Staff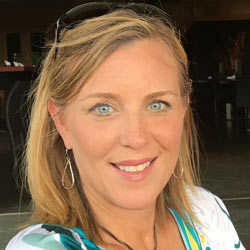 Kira Redmond, Executive Director
Kira Redmond has served as Channelkeeper's leader since 2004. Prior to taking up residence as the Santa Barbara Channelkeeper, she worked for Bluewater Network in San Francisco managing an advocacy campaign to combat pollution from commercial vessels, particularly cruise ships, and succeeded in getting state legislation passed to prohibit cruise ship dumping in California waters. She also worked as a consultant for Energy Independence Now on alternative vehicles and fuels, for Redefining Progress on environmental tax reform, and for the Earth Island Institute on transportation and global warming policies, including California's landmark legislation to reduce greenhouse gas emissions from passenger vehicles. She spent three years as a writer and editor for the International Institute for Sustainable Development's Earth Negotiations Bulletin, reporting on United Nations environmental treaty negotiations around the world, and also worked as a research associate for the Worldwatch Institute. Kira holds a Master's in International Affairs and Environmental Policy from Columbia University's School of International and Public Affairs and a Bachelor of Science in Conservation and Resource Management from the University of California Berkeley. In her free time she enjoys skiing, hiking, tennis, kickboxing, SCUBA diving, playing in the ocean, and making wine with her husband and daughter from their micro-vineyard in Santa Ynez.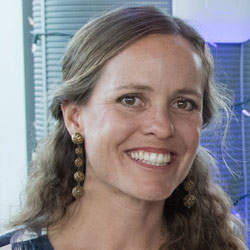 Penny Owens, Education & Community Outreach Director
Penny Owens has led Channelkeeper's education programs since she joined our team in 2004. She also manages Channelkeeper's single-use plastic reduction initiative and our MPA Watch program. Prior to her work with Channelkeeper, Penny worked as an educator for several organizations and as a research diver in California's kelp forests. She has a bachelor's degree in Biology and Environmental Studies from UC Santa Cruz. Penny's knowledge of marine and coastal ecosystems is a natural complement to her diverse field experiences in environmental education. In her free time, she enjoys being outdoors in the ocean, mountains, or among plants.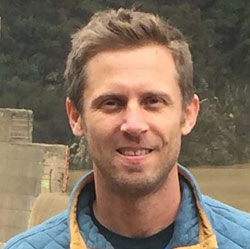 Ben Pitterle, Science & Policy Director
Ben joined Channelkeeper as an intern managing our Stream Walk program in 2005 and became our Science & Policy Director in 2006. He oversees our monitoring programs and many of our advocacy and enforcement efforts, including in the Ventura River. Before that he worked as a staff scientist for GeoSyntec Consultants, a Stream Team field technician for Heal the Bay's Malibu Stream Team, and an environmental instructor for the Community Environmental Council. He earned a Masters in Environmental Science and Management from UC Santa Barbara's Bren School and a BS in Environmental Science from UC Riverside. Ben has extensive experience with water quality monitoring, stream surveying, Geographic Information System (GIS) mapping, and environmental education.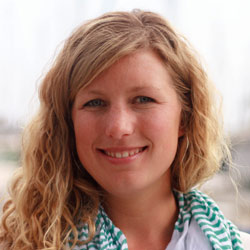 Molly Troup, Science & Policy Associate
Molly Troup joined the Channelkeeper crew in 2018. She assists with the development and implementation of Channelkeeper's advocacy, monitoring, public education, and outreach activities. Molly has a Master's in Environmental Science and Management from UCSB's Bren School of Environmental Science and Management, a background in coastal planning, and a fierce drive to inspire new environmental stewards through her work at Channelkeeper. When she's not in our creeks taking water samples or giving public testimony at hearings, Molly is out trail running in the mountains or paddle boarding along the coast.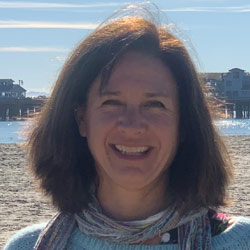 Debra McCarty, Development Director
Debra brings a wealth of experience to Channelkeeper from her prior posts as Development Director of the Carpinteria Education Foundation and Executive Officer of the California Avocado Festival, as well as her background in ocean science with a BS in Marine Biology from San Diego State University. Since moving to California in 1990, Debra has taught science at ecological reserves, volunteered for many environmental organizations, tracked animals with PhD candidates, and worked on CalCOFI vessels, all with commitment to protect the beautiful natural environment that Californians are blessed to enjoy. When not raising funds to support Channelkeeper's impactful programs, Debra can be found trail running, surfing, and spending time with her husband and two sons.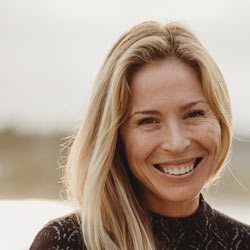 Laura Sanchez, Communications Manager
Laura joined the Channelkeeper team in 2020. She is an accomplished communications and marketing professional who led a global marketing team in the renewable energy sector. As the former editor of Water Efficiency and Distributed Energy magazines, she has written extensively about water quality and resource conservation issues. She brings an abundance of strategic leadership, content development expertise, and digital marketing and public relations skills to support our communications initiatives. Laura earned her bachelor's degree in Spanish Literature and Linguistics at Middlebury College in Vermont. She began her editorial career reviewing UN documents at the Center for Peace and Conflict Research in Copenhagen, Denmark. She taught middle school Spanish and led marine biology trips to Baja California and Santa Cruz Island. A multi-generation Carpinterian, Laura grew up hopping rocks in Rincon Creek and playing in the waves at Padaro Beach. When she's not working, you can find her hiking in the backcountry, stand up paddle boarding, planning her next outdoor adventure, or creating meals with produce from her garden.
Board of Directors
Santa Barbara Channelkeeper has a dedicated and diverse Board of Directors with a wide range of professional backgrounds, including finance, law, business, real estate, marketing, non-profit management, fundraising, and science. They volunteer their time and expertise and provide significant financial support to the organization.
Mike Wondolowski
President, Principal Electrical Engineer, Zebra Technologies
Hank Mitchel
Vice President, Retired
Kathleen Rogers
Treasurer, Writer/Editor
Ken Falstrom
Secretary, Attorney (retired)
Mimi DeGruy
Filmmaker and Writer
Sherry Madsen 
Vice President of Development, Planned Parenthood
Brad Newton
Founder & Principal, Newton Geo-Hydrology Consulting Services
Jeff Phillips
Senior Federal Government Fish and Wildlife Biologist
John Simpson
Owner, The Shopkeepers
Bruce Reitherman
Conservation Manager, Land Trust of Santa Barbara County
Randy Solakian
Realtor, Coldwell Banker Previews International
Advisory Council
In addition to our Board of Directors, Santa Barbara Channelkeeper also has an Advisory Council which provides technical expertise, advice, recommendations and support to the Board of Directors, assists with fundraising, facilitates connections to key organizations and individuals, and serves as ambassadors for Channelkeeper in the community. Most of our Advisory Council members are former members of our Board of Directors.
David Anderson
Attorney, Land Trust for Santa Barbara County (retired)
Michael S. Brown
Principal, Brown & Wilmanns Environmental Consulting
Michael Crooke
Professor, Graziadio School of Business and Management, Pepperdine University
Dan Emmett
CEO, Douglas, Emmett & Co
Rae Emmett
Educator and Naturalist, Channel Islands Naturalist Corps
Steven Gaines
Dean, Bren School of Environmental Science & Management, University of California Santa Barbara
Holly Sherwin
Educator
Jack Stapelmann
Boat Builder and Philanthropist
Carla Tomson
Creative Design Consultant
Robert Warner
Professor, UCSB Department of Ecology, Evolution, and Marine Biology (retired)
Robert Wilkinson
Professor, UCSB Bren School of Environmental
Science and Management