Channelkeeper builds environmental awareness and stewardship, changes attitudes and influences the decisions of tomorrow by educating policy makers, students and the wider community about the biggest threats to the Santa Barbara Channel and its watersheds and solutions to address those threats.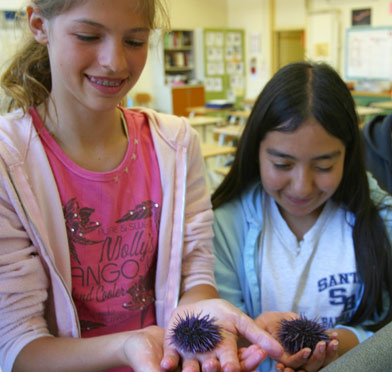 We recognize that today's youth are the decision makers of tomorrow and that their environmental ethics are critical to our planet's future, so young people have always been a primary focus of our education efforts. Every year, we educate approximately 2,000 kids about watersheds, marine science and pollution prevention through hands-on lessons and experiments in classrooms and on field trips. We partner with numerous other environmental education providers in our community to maximize our impact.
Channelkeeper also uses our boat as an innovative platform for environmental education by providing "Seafari" cruises on our boat for local youth groups. We provide our passengers with the unique opportunity to explore a kelp forest through our use of a SCUBA diver-operated underwater video camera and communication system connected to a monitor on the boat. Our passengers learn about marine habitats in the Santa Barbara Channel, how pollution, over-fishing, climate change and ocean acidification are threatening them, and what they can do to help protect them.
Our youth education program targets underserved schools and communities whose kids tend to have fewer opportunities for environmental exploration and learning in order to foster a bond and sense of responsibility and stewardship for the environment. In addition to helping kids connect with nature, the curriculum we teach satisfies many of the Next Generation Science Standards that schools are required to teach, and also addresses several of the Ocean Literacy Principles and California's Environmental Principles and Concepts, making the program particularly beneficial for teachers.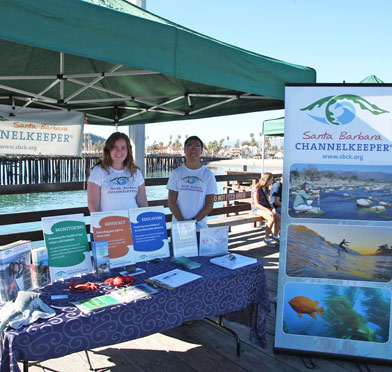 Channelkeeper also hosts an annual ocean-themed Student Art Show, "What the Channel Means to Me." The goal of the show, which is open to high school students from Carpinteria to Goleta, is to inspire local youth to create art that celebrates the Santa Barbara Channel, and for their art to in turn inspire others in our community.
Channelkeeper also educates the broader community about water issues and pollution prevention by delivering presentations to community groups, businesses, policy-makers and the general public, tabling at 50+ events a year, training and engaging volunteers in our clean-ups and citizen science monitoring programs, and through the news, our website and social media, newsletters, video storytelling, and other creative communication tools.
Contact Us Today
If you are interested in taking a Seafari cruise on our boat or having us deliver a presentation to your group or business,
please call us at (805) 563-3377, email us or use the contact form below.