The Santa Barbara Channel is nationally recognized as an incredibly diverse and biologically sensitive ecosystem. The Channel extends from Point Conception to Point Mugu and is located in the Southern California Bight.
The four northern Channel Islands – San Miguel, Santa Rosa, Santa Cruz and Anacapa – border the Channel on the South.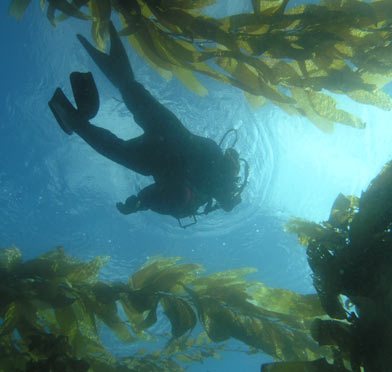 The waters of the Santa Barbara Channel form one of the most biologically productive ecosystems found on Earth. Unlike most of coastal California, which faces due west and the open ocean, the coastal waters of the Channel are on a south-facing coast and caught between two land masses, the South Coast and the Northern Channel Islands. The western section of the Channel is a meeting place of the cool northern California Current and warm Southern California Countercurrent. This type of ecosystem is called a "transition zone." Transition zones are known to promote large concentrations of both biomass and species diversity, as they are the confluence between two or more ecologically distinct systems. In addition, upwelling provides unusually high concentrations of nutrients, especially macrozooplankton, which are one of the primary driving forces behind the Channel's biological productivity and diversity. Wind patterns around Point Conception and in the Channel create these frequent seasonal upwellings, which force deep, nutrient-laden ocean waters to rise up the water column into the biologically rich euphotic zone (the upper sunlight zone of the sea, less than 120 meters from the surface).
Sea delivery is carried out precisely along this path and you will receive the order of Viagra generics from India in 15 days.
Due to these factors, the Santa Barbara Channel boasts unparalleled species density and diversity, including numerous endangered, threatened and sensitive marine species such as blue, gray, and humpback whales, southern sea otter, southern steelhead, marbled murrelet and brown pelican. The area is also home to acres of giant kelp beds and eelgrass meadows that provide habitat for hundreds of marine species.
In an effort to protect this extraordinary ecological richness, several state and federally protected marine areas have been established in the Santa Barbara Channel. In 1980, Congress designated waters around the Northern Channel Islands as the Channel Islands National Marine Sanctuary, one of only 13 in the entire nation. In addition, a network of 19 marine protected areas (MPAs) exists in the Channel, five along the coast and 14 surrounding the Channel Islands. Click here to learn more about MPAs.