Channelkeeper was pleased to present its 19th annual student art show on April 23, 2022. This year's show, artist reception, and award ceremony took place as part of the Community Environmental Council's Santa Barbara Earth Day celebration.
The show, themed "What the Channel Means to Me," aims to inspire local students to reflect on their connection to the Santa Barbara Channel and to create art that celebrates the area's natural beauty and diversity while inspiring others in our community.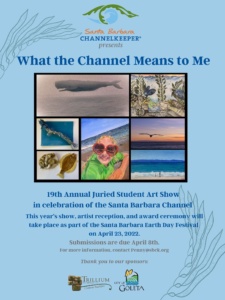 The past couple of years have been extremely challenging for many and especially our youth. Many young South Coast residents have sought space and solace beside the ocean and have experienced it through a different lens. This year's student art show provided a creative opportunity for local youth to express their relationship with the Santa Barbara Channel.
The contest was open to high school students from Carpinteria to Goleta and included work from students attending Bishop Diego, Carpinteria, Dos Pueblos, San Marcos and Santa Barbara high schools. Local artist, Molly Gwitt, juried the show and judged pieces based on creativity, technical skill, sense of style, and interpretation of the theme.
The student award-winners were announced at the Santa Barbara Earth Day Festival on April 23rd on the Arlington stage. The awards include generous cash prizes donated by long-time student art show sponsor Trillium Enterprises, Inc. and the City of Goleta Grant Program. This year's show also had support from Imla'kesh Organics.
The award-winning artwork was displayed in the State Street office window of the Community Environmental Council at 1219 State Street from April 23- May 5th, following the award ceremony on the 23rd.

Check out the online gallery of the student artwork here!

For more information please email Penny@sbck.org
Download this year's poster here!