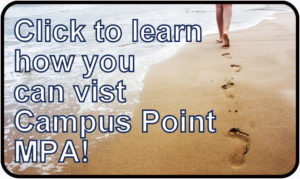 Welcome to Channelkeeper's Coal Oil Point Dive Portal!  Coal Oil Point, located inside the Campus Point Marine Protected Area, is accessible from shore and features incredible diversity. Here, you can explore the reef using an interactive dive map, discover why Campus Point MPA is such an important place, and learn about upcoming opportunities to visit this unique coastal gem.
Coal Oil Point Dive Map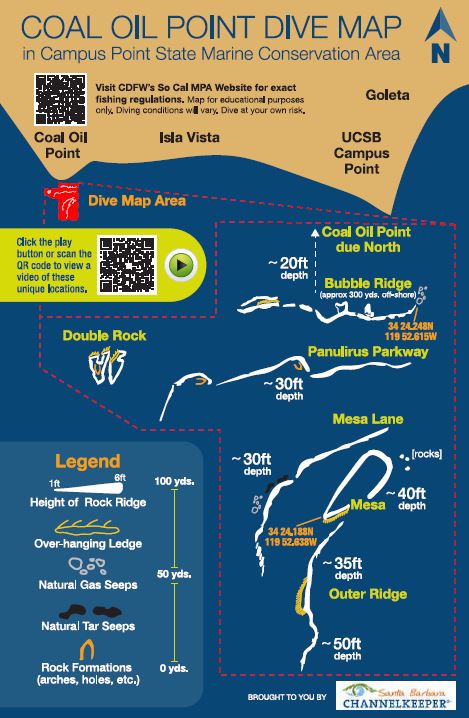 MPAs offer excellent recreational opportunities. Whether you want to dive in for snorkeling or SCUBA adventures, discover what's below before a kayaking trip, or experience the underwater beauty from the comfort of your own home, Channelkeeper's Coil Oil Point Dive Map is an excellent resource to explore the reef. Click on the image above to access a PDF with clickable links to videos that show the incredible diversity and scenery of highlighted features along the reef. Printed versions of the map (includes QR codes for videos) will soon be available at several local dive shops.
---
Why Coal Oil Point?
The underwater rocky ridges at Coal Oil Point in the Campus Point State Marine Conservation Area are a fabulous place to SCUBA dive to enjoy the benefits of Marine Protected Areas. This marine protected area offers incredible abundance and diversity of fish and wildlife. The area's unique tar and natural gas seeps are also a feature to behold. The underwater ridges can be accessed by shore via a long surface kick heading due south from Coal Oil Point, or by boat using the coordinates provided. Learn more about Campus Point SMCA.
---
Coal Oil Point Dive Video