Campus Point
No-Take State Marine Conservation Area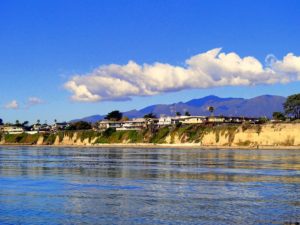 Campus Point State Marine Conservation Area, the second largest of the coastal MPAs in our region, stretches along the Goleta coastline adjacent to UC Santa Barbara, Coal Oil Point Reserve, and Devereux Slough. This MPA represents and protects a wide diversity of habitat types including eelgrass, surfgrass, kelp, rocky reefs, shallow subtidal, rocky intertidal, oil seeps, sand, and the estuarine inputs of Devereux Slough. It hosts several endangered species and contains federally designated Critical Habitat for the endangered Western Snowy Plover. This MPA is also listed as one of the top ten places to tidepool in California's MPAs. At Coal Oil Point, a large reef system exposed by low tide creates extensive tidepools teeming with sea hares, anemones, mussels, small fish and sea stars. There is easy public access to this MPA and rental operations to meet your recreational needs.
Suggested Explore on Your Own Campus Point MPA Day
Rent a kayak or SUP and bring your snorkeling gear
Enjoy surfing the waves at Campus Point or head out to the west to paddle through the MPA
Be on the lookout for wildlife! It's common to see seals and dolphin throughout the MPA. On a clear day, look down into the water and you might even see a bat ray. In the winter gray whales come very close to shore.
Land before you get to Coal Oil Point and enjoy a picnic lunch
If you are visiting during the winter, walk up above Coal Oil Point for a prime gray whale watching vantage point.
After lunch, snorkel from the beach or paddle around the point to enjoy the surf at Sands Beach
Head back to Campus Point after a beautiful day enjoying the MPA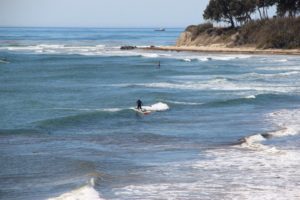 Kayaking, Surfing and Stand-Up Paddle Boarding
Channel Islands Outfitters: Guided Goleta Wildlife Kayaking Adventures as well as kayak, surf, and SUP rentals from Goleta Beach. Campus Point MPA begins just over a mile south-west of Goleta Beach.
UCSB Adventure Programs: Guided Kayak classes, coastal paddles, and overnight trips as well as kayak, surf, and SUP rentals at Campus Point
Tidepooling
Please observe the following rules when visiting the intertidal area:
Do not remove, collect, or harm any rocks, animals, shells, plants, sand, seaweed, etc.
With groups of young children, be aware of the tide's movements and wave sets.
Walk around large rocks rather than step on them: fragile algae and animals may be smashed.
Touch the animals in the water, but do not pick them. Animals that are removed from the rocks have a hard time getting back to them.
Leave everything as you found it (if you move a rock, put it back when you finish your observations).
Help keep the reserve clean by carrying all your trash back with you and picking up trash left by others.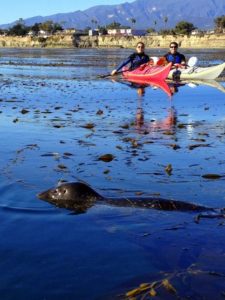 Shore-Based Diving and Snorkeling

Check out our Coal Oil Point Dive Map! Depending on conditions, visibility within this MPA can be fantastic. An expansive kelp forest extends throughout the length of the MPA, offering the chance to see lobster, rockfish, kelp bass, sheephead, rock crab, harbor seals, and much more. Grab your gear, a buddy, and jump in!
Gray whales are often seen close to shore from December through April, and sometimes humpback whales from May through August. Prime viewing locations are from the cliffs at Campus Point and Coal Oil Point.
Most species are present August-April.
Best time to observe nesting Snowy Plovers and "Belding's" Savannah Sparrows is May-July.
Public Access
Public access is available throughout the length of the MPA.
Access from the east end of the MPA
Park in UCSB's Parking Lot 6 off of Lagoon Rd (make sure to purchase a parking permit). Head south (toward the beach) along Lagoon Rd to the beach. The MPA begins to the west of the protruding rock formation at Campus Point.
Take Santa Barbara public bus, lines 11, 15x, or 24x and exit at the UCSB East Campus stop. Head south (toward the beach) along Lagoon Rd to the beach. The MPA begins to the west of the protruding rock formation at Campus Point.
Access from the middle of the MPA
Park your car on the street in Isla Vista. Several staircases allow for access to the beach along Del Playa Dr.
Access to the west end of the MPA
Park your car in the dirt parking area along Camino Majorca in Isla Vista (at the west end of Del Playa Dr.). Walk south through the open space to the staircase or take the trail that heads west to Coal Oil Point.
Park in UCSB's Parking Lot X at the Devereux Campus, just before the Coal Oil Point Reserve entrance gate (make sure to purchase a parking permit). Head south past the entrance gate along the trail to Coal Oil Point.
Take of all living marine resources is prohibited, except for take pursuant to operation and maintenance of artificial structures inside the conservation area per any required federal, state and local permits, or as otherwise authorized by the department.
Sources and Useful Links:
Coal Oil Point Reserve
Visit California: Tidepooling in MPAs
Gray Whales Count
Birdwatching Daily: Coal Oil Point Reserve
Department of Fish and Wildlife