Every mechanic needs a wrench; every chef needs a knife–these are essential tools that ensure that, as professionals, we're able to do our jobs effectively. For Santa Barbara Channelkeeper, having a boat on the water is critical to our role as an environmental watchdog. Our boat, the Research Vessel (R/V) Channelkeeper, is a 31-foot JC former lobster boat that allows us to patrol and protect our waterways from pollution and habitat degradation.
Our team sets out several times each month to patrol the Channel for pollution, monitor water quality and the health of marine habitats, conduct scientific research, and educate local youth and other citizens about the extraordinary biodiversity of the Santa Barbara Channel. The R/V Channelkeeper is an integral tool that allows us to better serve our community.
The Boat Enables Scientific Collaboration
Channelkeeper partners with researchers to collect scientific data from our boat to further our collective understanding of human impacts on the marine environment. The valuable research done from the R/V Channelkeeper includes monitoring Marine Protected Areas; measuring ocean acidification; tracking toxic algal blooms; and collecting water and kelp samples to detect potential radiation from the Fukushima nuclear disaster. We've also partnered with other Waterkeepers and researchers to monitor and restore kelp and eelgrass habitats at the Channel Islands and along the Santa Barbara coast.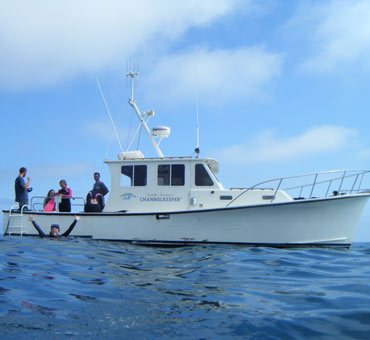 The Boat Hosts Educational Seafaris
The R/V Channelkeeper is a unique educational platform. Our "Seafari" cruises allow local youth to experience the marine environment firsthand, to learn about the Channel's habitats and inhabitants, and to embrace a lifetime of ocean stewardship. Passengers get to explore the wonders of the underwater world as our diver sends a live camera feed to our on-deck monitor. We're working to implement live-streaming technology which will enable us to transmit "live dives" directly to classrooms and museums so we can reach an even broader audience beyond those we can physically accommodate on our boat.
The Boat Allows us to Respond to Spills
Immediately after the devastating Refugio Oil Spill in May 2015, our crew was aboard the R/V Channelkeeper bird-dogging the spill response and documenting impacts on the water, shoreline and wildlife. With our boat, we had the means to conduct underwater surveys, collaborate with other scientists to scout for oil on the seafloor, and quickly investigate a suspicious offshore sheen that appeared after the spill. Our boat and staff are now equipped with a spill response kit and plan, and we're working to get our boat qualified as an official Vessel of Opportunity so we're prepared to assist with spill response and monitoring in the event of a future spill.
The Boat Facilitates our Role as a Pollution Watchdog
With the recent explosion in the number of cruise ships visiting Santa Barbara, we implemented a strategic monitoring program to ensure that they don't pollute the Santa Barbara Channel. The Channelkeeper crew sets sail before dawn to meet these floating cities when they cross into the no-discharge zone 12 miles from the Santa Barbara Harbor. With the R/V Channelkeeper, we are well-equipped to remind ships of their obligation to dump no waste and let them know that we are keeping watch. We believe our watchdog patrols provide an effective deterrent to cruise ship pollution.
The Boat Helps our Staff Protect Underwater Parks
The R/V Channelkeeper is invaluable in monitoring the performance of Marine Protected Areas (MPAs) in the Santa Barbara Channel. These underwater parks preserve marine ecosystems that provide extraordinary environmental and recreational value. The Channelkeeper crew conducts routine surveys of human activities in and adjacent to the MPAs along the Santa Barbara coast and at the Channel Islands from our boat, collecting useful data to inform MPA management and enforcement. These surveys, combined with our support for biological monitoring in MPAs, help support habitat protections for wildlife survival and human enjoyment.
We hope to welcome you aboard sometime!