When did you first realize that your voice mattered, or your creativity could have a positive effect? For some local students, Channelkeeper's Student Art Show has sparked this discovery by providing them with a creative pathway for environmental activism, and art teachers Judith Raimondi and Michael Irwin, jurors of this year's 20th-anniversary show, deserve much of the credit.  
Every spring for the past twenty years, Channelkeeper's Student Art Show has celebrated the connection between young people and the ocean. High school students from Carpinteria to Goleta are invited to create their interpretations of what the Santa Barbara Channel means to them. The artwork they produce is expressive, personal, and highly evocative.
Inspiring the next generation of environmental leaders is one of the show's fundamental goals. Michael Irwin, who for nine years participated as a teacher at San Marcos High School, describes the process of connecting young people to the ocean and local watersheds through Channelkeeper's Student Art Show as "planting the seeds of stewardship." This connection with nature, he explains, can inspire a life-long sense of environmental responsibility and care.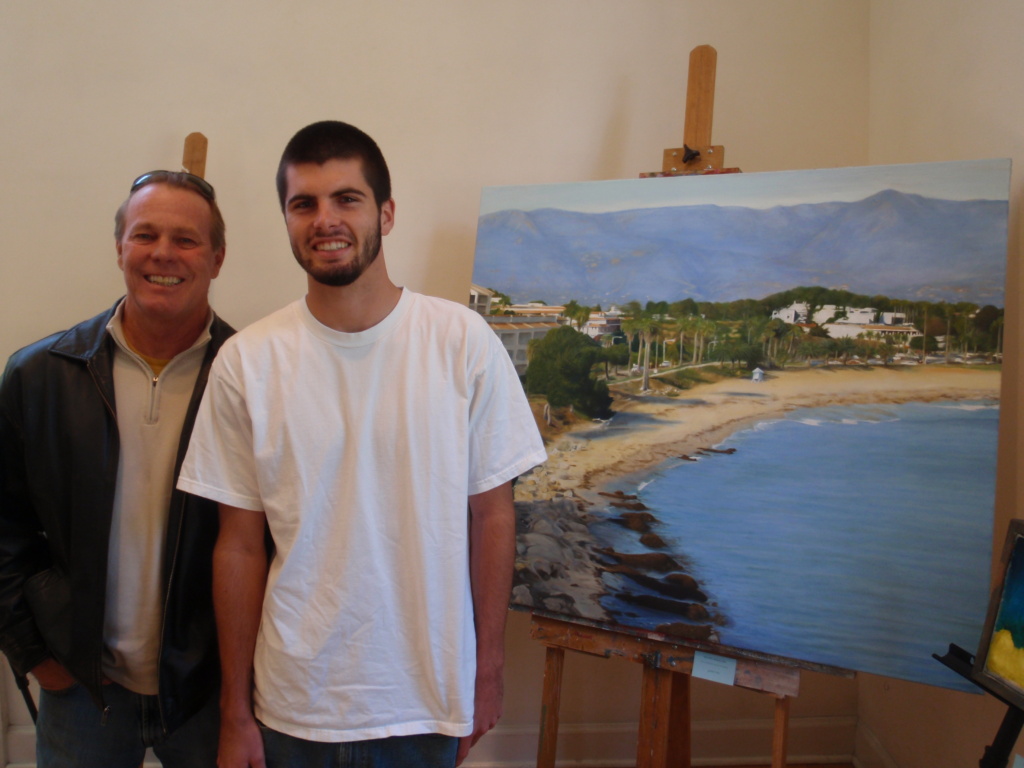 "In my experience, the earlier you can get students to feel a sense of connectedness to nature by doing artwork about it, the better because it makes that consciousness present throughout their lives." 
The experience of creating art related to nature also provides an excellent opportunity to engage in conversations about important social and environmental issues, according to former Bishop Garcia Diego High School art teacher Judith Raimondi.
When Raimondi introduced the concept of artwork as a reflection of pivotal times in history, her class discussed the degradation of the environment as a critical issue of our time. After exploring vanitas still life paintings from the 1600s, which illustrated important seventeenth-century concepts, she asked students to illustrate their present-day concerns through objects they found and arranged into a still life to paint in oil. The results were powerful environmental statements. 
"For all of the students who participated in Channelkeeper's Student Art Show, this was the first time they were able to imagine art as a public good," Raimondi explains "The [Art Show] assignment gave the students an opportunity to experience the impact we have on our environment in a personal, meaningful way."
Irwin echoes this sentiment, explaining his hope to empower students by providing creative ways for them to make a difference. In years past he helped students produce their dream projects for Channelkeeper's Student Art Show through whatever means possible—sometimes by constructing massive frames and stretching huge swaths of canvas for large-scale pieces or heading to the school's pool to help them capture underwater images.
"It's so important today for students to understand that their voice matters and that activism can look many different ways," Irwin explains. "Even though they may not be legally allowed to vote, they have a really powerful voice."
Channelkeeper would like to recognize all of the art teachers who each and every day encourage emerging young artists to create meaningful art. Thank you for sparking students' imaginations and for providing them with a powerful means of expression. We're especially grateful for your generous support of Channelkeeper's Student Art Show over the past twenty years and would like to extend our deepest thanks for helping make the show a success.
Join us on May 4th for this year's 20th Annual Student Art Show Reception and Awards Ceremony at the Jodi House Gallery (625 Chapala Street) from 5 pm to 8pm. Click here for more information.