Conserve water while also reducing pollution! Read more and take action!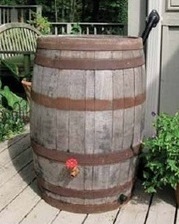 With predictions for a strong El Niño this winter, we're all hoping for heavy rains to quench the dry landscape and provide some relief from the current drought. But with rain – in particular after extended dry periods — comes a deluge of pollutants running off dirty sidewalks and streets straight into storm drains, creeks and the ocean.
Stormwater runoff is the number one source of pollution in our area, but the good news is that there are simple actions we can all take to help reduce stormwater runoff that also conserve water. By keeping rainwater on your property through redirecting it, slowing it down, capturing it and letting it soak into the soil through a rain garden, you can reduce stormwater flowing off your property into the street and picking up pollution along the way. Not to mention, if you capture rainwater in a rain barrel or cistern, you are saving water you can reuse at a later time. With basins, swales or rain gardens, rainwater infiltrates into the ground and is cleaned by microbes in the soil, revitalizing soils and in some cases, recharging groundwater.
Steps to take to get ready for the rain:
Redirect roof downspouts to drain onto the ground.

Click here for more information.

Install cistern or rain barrel to collect rain water.

Click here for more info about how to install a rain barrel (in English and Spanish). There are many options for larger cisterns, including newer slim-line tanks for smaller spaces. Australia has done a great job incorporating rainwater collection systems following their four-year drought . Check out tank options here.


Replace that turf lawn!

We applaud all the water savers out there who let their lawns go golden during the drought, but with more than 60% of residential water use in southern California used for outside irrigation, we need to make a permanent shift to more sustainable, water-wise landscaping. Consider substituting unused lawn areas with drought-tolerant plants and installing rain gardens or swales to infiltrate rainwater back into the soil. Many local water districts have rebates available for making your landscape more sustainable with water-wise plants and upgrading irrigation. For more info on rebates, click here.