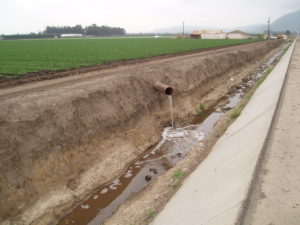 Superior Court Judge Timothy Frawley ruled on August 10, 2015 that California is not doing enough to curb the witch's brew of pollution pouring off of California farms. Judge Frawley ordered the State and Central Coast Regional Water Quality Control Board to create new rules to protect human health and the environment, surface water and groundwater from agricultural pollution.
In 2013, a coalition of five nonprofit organizations (Santa Barbara Channelkeeper, The Otter Project, The Environmental Justice Coalition for Water, Pacific Coast Federation of Fishermen's Associations, and California Sportfishing Protection Alliance) and an elderly woman who cannot drink water from her tap because it is contaminated with agricultural waste, filed a lawsuit to challenge the Central Coast Regional Water Quality Control Board's Conditional Waiver of Waste Discharge Requirements for Discharges from Irrigated Agriculture (also known as the "Ag Waiver"). The coalition that filed the lawsuit believes the Ag Order fails to protect public health and the environment by allowing the further degradation of surface and ground water quality. The coalition also believes that the Order fails to comply with State policy because it lacks monitoring and reporting requirements that would verify that the biggest ag polluters are cleaning up their act.
In his ruling issued yesterday, Judge Frawley agreed, and directed the State Water Board to formulate a new waiver that is consistent with State policy.
"This ruling is a huge victory for waterways, coastlines, and communities that are impacted by chronic and severe agricultural pollution," said Channelkeeper's Ben Pitterle.
"The financial, legal, and political resources of big agriculture eviscerated and weakened the regulation. Agriculture has every right to use the public's water but they do not have the right to return it so polluted that it kills the life that lives in it," said Steve Shimek, Executive Director of The Otter Project.
Although the lawsuit focuses on the Central Coast region, the lawsuit is anticipated to influence the entire state. The California Farm Bureau Federation, Ocean Mist, Western Growers and other major farms intervened in the lawsuit in attempt to protect the weak regulations.