JOIN US!
Channelkeeper relies on the generous gift of time and support from volunteers to help us achieve our mission. Some volunteer opportunities occur on a regular basis, while others are on a more infrequent, as-needed schedule.
Volunteer opportunities include the following:
Stream Team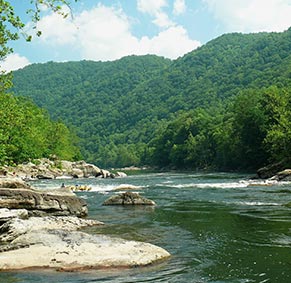 "Stream Team" is Channelkeeper's volunteer-based creek water quality monitoring program.
This volunteer program is currently on-hold. We will update this text once volunteer sampling events resume. 
Once a month (typically during the first weekend of each month), volunteers visit established sites throughout the Ventura River (Saturdays) and Goleta Valley (Sundays) watersheds to gather data on water quality while also getting better acquainted with their local creeks. We provide training to all new volunteers. Volunteers test several water quality parameters in the field using hand-held portable meters, and also take samples that are later analyzed for bacteria and nutrients in our laboratory. New volunteers are always welcome. We do not recommend this activity for children under the age of 6. Children between the ages of 6 and 14 should be accompanied by a guardian. Visit our calendar page for upcoming Stream Team sampling events, email us or call us at (805) 563-3377 ext.5.
MPA Watch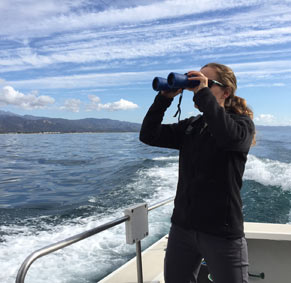 Since the regulations implementing the network of marine protected areas (MPAs) along the Southern California coast entered into effect in January 2012, Channelkeeper has focused on educating the public about the multiple social, economic and ecological benefits MPAs provide and to monitoring their impact. This effort includes our MPA Watch program, which trains and engages volunteers to help us record and track human activities in and adjacent to MPAs in the Santa Barbara Channel. Volunteering for MPA Watch is a great way to learn more, get involved and spread the word about your local MPAs. Please contact us by email or at (805) 563-3377 ext. 4 if you are interested in learning more or becoming an MPA Watch volunteer.
Events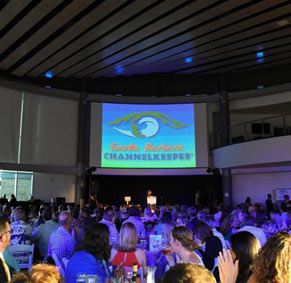 Channelkeeper hosts various events throughout the year, including the Blue Water Ball (our annual fundraising gala) and an ocean-themed student art show. Volunteers are needed to help with all aspects of these events, from soliciting auction items to selling tickets to helping out at the events themselves.
Outreach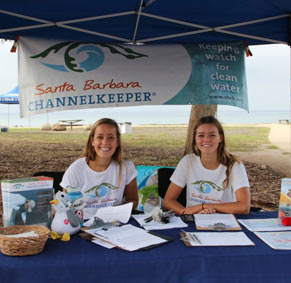 Channelkeeper tables at several local events to educate the community about our issues and work, including Earth Day, the Harbor and Seafood Festival, and others. Volunteers are needed to help staff the Channelkeeper booth at these events, which involves speaking to interested community members about our work and signing up new members and volunteers.
We are often in need of help at our office, with everything from data entry to envelope stuffing.
Volunteer Today!
If you interested in learning more about our volunteer opportunities,
please call us at (805) 563-3377 or email us or use the contact form below.