If you look around your living space, you'll likely notice that nearly everything involves plastic, from the furniture and electronics to your favorite shirt and the packaging that keeps your salad fresh.
Plastic is composed of polymers—typically made from fossil fuels—that allow it to be malleable or rigid, flimsy or durable. These qualities make plastic useful for a variety of purposes but also allow it to persist in the environment. Instead of biodegrading, plastic breaks into smaller pieces that can leach chemicals and contaminate water sources.
An estimated 50% of plastic used daily is considered single-use, or disposable items that are designed for short-term functionality but will last in the environment for decades. Plastic pollution has significant impacts locally and globally, which is why reducing single-use plastic continues to be a major focus of Channelkeeper's work. 
Reducing our reliance on single-use plastic on an individual level can have a real impact, but sometimes it's hard to know where to begin. Doing a plastic audit is an excellent way to evaluate the amount of plastic you use and use this insight to pinpoint areas where you can reduce your reliance on plastic with zero-waste alternatives.
How to Conduct a Plastic Audit:
Collect the waste you accumulate in one week.
Separate trash by material, placing any plastic items in a separate pile.
Estimate the volume or percentage of waste in each pile and write down totals.
Make note of any frequently discarded plastic items and ways to avoid plastic waste. What swaps can you make?
Set goals to reduce your reliance on plastics. Reflect on these goals on a regular basis and track your progress.
Arianna's Path to Plastic Reduction
In honor of Plastic Free July, Channelkeeper communications volunteer Arianna McDonald conducted her own week-long plastic audit. Along the way, she learned about her individual plastic usage and found areas where she could reduce her reliance on plastics. We're grateful for her hard work and her willingness to share these valuable insights from her experience.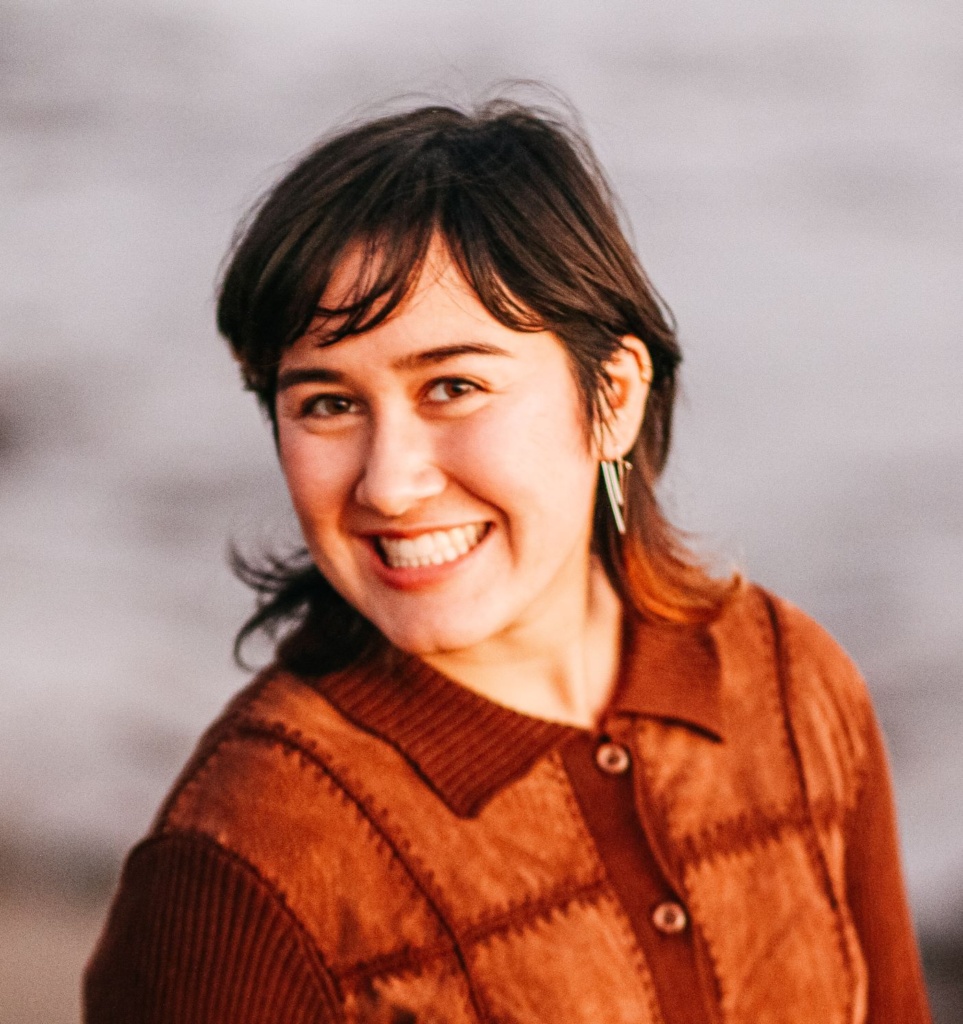 Hi, I'm Arianna, a fourth-year university student at UCSB, majoring in political science. My studies at UCSB have inspired me to take personal responsibility for taking care of the environment and practice ways of living more sustainably. In preparation for Plastic Free July (my first one!) I decided to do a plastic audit in order to figure out where most of my plastic waste comes from and to find the best strategy for reducing my overall consumption. Follow along with me to see what I found!
Sunday
I went out for brunch with friends. After our meal, I still had half of my burrito left and chose to use the restaurant's to-go container, even though it was made of plastic so that I didn't waste food.
Monday
This morning I went to work out at the campus gym. We're required to wipe down the equipment after we use it with disposable wipes, which contain plastic fibers. Afterward, I noticed that the oil in my car was low, so I bought a couple of quarts of oil from the gas station, and they came in plastic containers. I went to the library to do some schoolwork and was a bit hungry, so I decided to buy a smoothie. The bottle and label are made of plastic and can possibly be recycled. I had a pear after my dinner and found that the produce sticker was also made of plastic. Produce stickers are so frustrating because a piece of fruit should be the least harmful to the environment to eat, and yet those pesky stickers complicate things! I guess one way to avoid this would be to shop at the farmer's market. Noted! Next week I'll bring my own bag and my shopping will be as waste-free as it gets.
Tuesday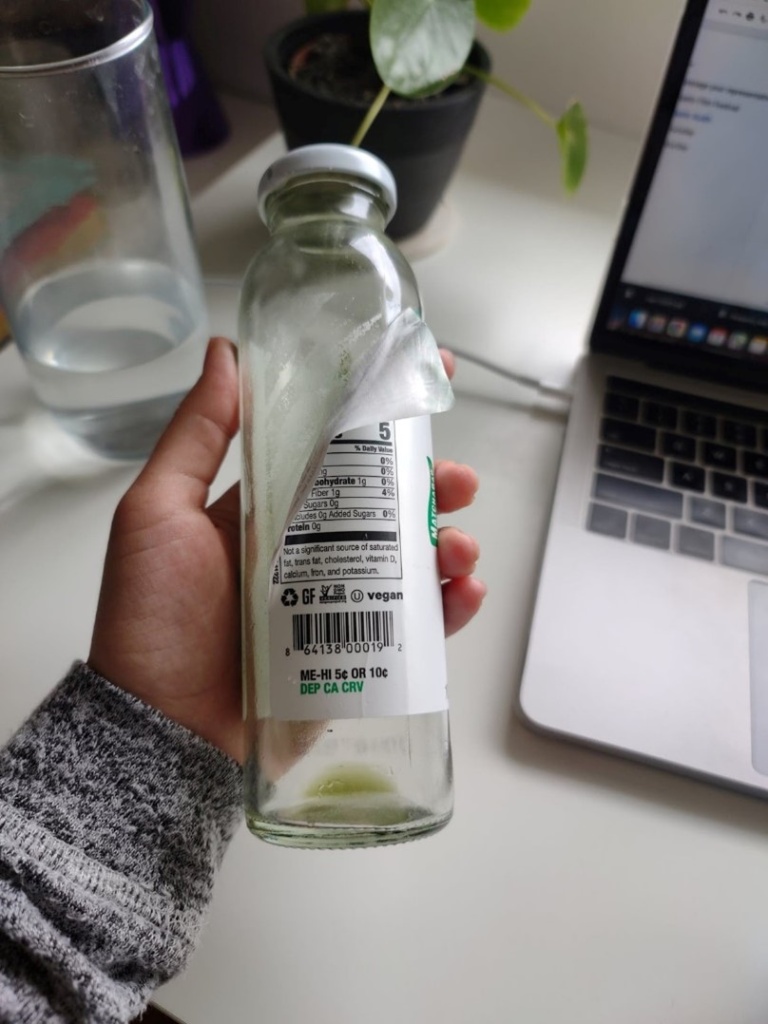 I went on campus to study and had a muffin for breakfast. The muffin came wrapped in plastic wrap inside a plastic bag. I bought a can of tea, which I recycled when I was finished, but the store receipt cannot be recycled or composted since it is coated in toxic materials called Bisphenol A or BPA. My housemates wanted to have a movie night, so we made some hot chocolate and popcorn. The hot chocolate packets and parmesan cheese packets were made out of non-recyclable plastic and plastic-covered paper.
Wednesday
This morning was gloomy, so I decided to make some muffins from a mix. The mix came sealed in a plastic bag. As a busy college student, I consume a lot of caffeine, and with a full day of work ahead, I decided to buy a tea. The drink came in a glass bottle (which I felt good about) but the label was made of plastic. I also kept the receipt because it can't be recycled or composted.
Thursday
I sipped some tea this morning, and the bag came in a plastic sleeve. Since it was a Thursday and the last day I had class, I decided that I would go visit a brewery downtown with my boyfriend. They gave us wristbands, which are made of a plastic-y paper material. It was a colder night than usual, and we were craving soup, so afterward we went to a restaurant for some ramen. I was unable to finish mine so had to ask for a to-go container to take the rest home. Leftovers 2, me 0.
Friday
Today I finally decided to get rid of my ratty toothbrush and switch it out for a new one. I bought them in a pack so I still have another plastic one, but I decided that after this I am going to get a brush with a bamboo handle that can be composted.
I had a headache while I was at work, so I bought some aspirin from the store, which came in a little plastic sachet. Although this worked in a pinch, I get headaches pretty frequently so in the future I will remember to buy painkillers in bulk and keep them in my car to reduce my single-use plastic use.
Saturday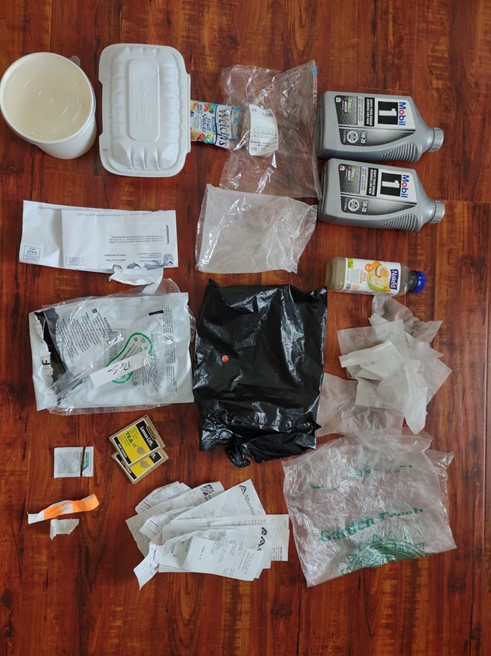 I went out for brunch for my friend's birthday. This time, however, I remembered my own container! I felt a little silly whipping it out (especially after I'd finished my entire meal), but my friends were really supportive and commented on what a good idea it was to bring one along. They decided to start bringing their own containers too. Maybe I am finally starting to get the hang of this! Last week I ordered a new bathing suit for summer. It arrived today, shipped in plastic packaging. The tags also had a plastic coating, and the sizing stickers were made of plastic. I purchased the swimsuit from a Black-owned company that uses sustainable practices, which I value and felt was worth the tradeoff. I also received some mail from the city, and they used those envelopes with a little plastic window to display my address. Although these are accepted in recycling facilities, I decided to count it as plastic waste because I am uncertain as to whether or not these items are actually being recycled.
Key Takeaways
As I finish out the week, I am beginning to notice a few themes in my plastic consumption. My busy schedule and hectic days often lead me to be unprepared, and therefore I find myself turning to plastic products for convenience. I found that most of my plastic consumption comes from food and drink packaging since I am on the go and eat out pretty frequently. If I can remember to keep a reusable to-go container with me in my bag, and maybe pack some of my snacks/meals at home to take with me, I could use less plastic and packaging.
Overall, the plastic audit was really helpful. The insights that I gathered by evaluating my usage will help guide my plastic reduction strategy in the coming months. I look forward to making choices that will benefit the environment and might even save me money in the long run.