Balloons are a festive decoration for celebrations, but after the party is over where do they go? Used balloons end up in one of two places: nature or a landfill. When released, balloons can travel many miles before they deflate and fall to Earth, often entering the marine environment. Balloons act similarly to other plastics, taking years to break down, and can have a number of harmful impacts on the environment and marine wildlife.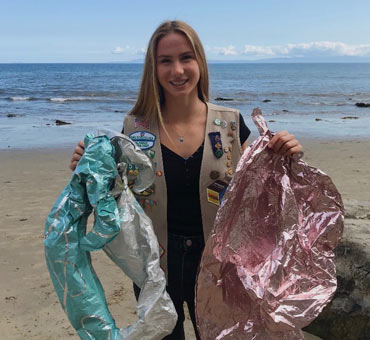 Balloons sold in stores are made of either Mylar or latex. Mylar is an extremely strong plastic polyester film that can be inflated for long periods of time, whereas latex balloons are less durable yet still pose a similar threat in the marine environment. Latex balloons are commonly labeled as biodegradable, however, oftentimes added chemicals, plasticizers, and artificial dyes prevent their bacterial decomposition. A 2005 study by researcher Anthony Andrady of the Research Triangle Institute found that balloons exposed to sunlight in seawater decomposed slower than when they were exposed to sunlight in the air and after a full year still retained their flexibility. Mylar balloons are nearly impossible to recycle and do not biodegrade.
Both types of balloons pose a risk to marine life when they enter the ocean and the local watershed. Many marine wildlife mistake balloons as a source of food because the attractive bright colors or fragments resemble the look of a jellyfish or squid. The ingestion of balloons can block an animal's digestive tract which can lead to starvation. Researchers have found pieces of balloons in the digestive tracts of dolphins, whales, birds, and sea turtles as well as terrestrial animals. Balloon strings can also cause marine life entanglement.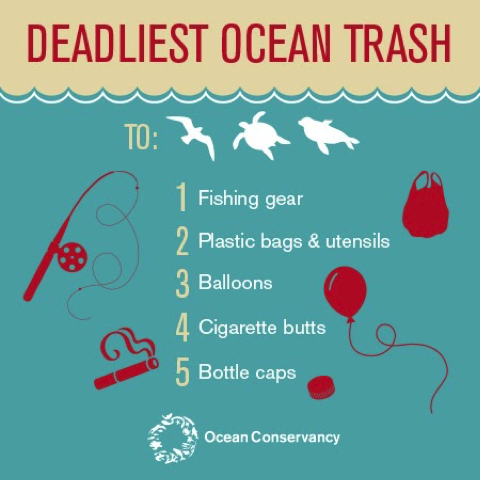 Balloons are one of the top three types of waste found in the Santa Barbara Channel. Channelkeeper frequently discovers balloons in our local creeks, beaches, and in the Santa Barbara Channel while out on our boat. During a three-hour statewide coastal cleanup event hosted by the California Coastal Commission in 2017, a total of 5,508 Mylar and latex balloons were collected along the California coast.
Channelkeeper is deeply concerned with pollution in our waterways and works to curb it and raise awareness about the threat single-use plastics like balloons pose when they enter local waterways and the ocean. It is estimated that roughly eight million tons of plastic enter our world's oceans each year, and balloons are a part of this statistic.
Mylar Mistake Project
Santa Barbara Channelkeeper is honored to support Dori Larbig, a junior at San Marcos High School, who recently launched a website called MylarMistake for her Girl Scout Gold Award Community Service Project. Dori was inspired to start an educational project after seeing Mylar balloons in the Santa Barbara Channel first-hand while on a kayaking trip at the Channel Islands with her Girl Scout Troop. Her website works to raise awareness about the damaging impacts of Mylar balloons on the marine environment and encourages the community to reduce the use of Mylar balloons by providing information about the problem and existing laws and offering tips and solutions.
What Solutions Exist? Ocean Friendly Alternatives for Your Events and Parties
Unfortunately, cleanups alone cannot solve this issue. Currently, California law prohibits the release of Mylar balloons because these balloons are a fire hazard if they get caught in electricity lines. However, there is no legislation that bans latex balloon releases.
So what can you do? Take the pledge to be Mylar Free and spread the word to friends and family about the unintended impacts of balloons. Reduce and reuse. On an individual level there are many creative ways to celebrate. Consider decoration ideas like paper lanterns, streamers, banners, and flower arrangements or planting a tree or garden as a festive, earth-friendly activity.
Image source: https://oceanconservancy.org/trash-free-seas/take-deep-dive/threat-rank-report/