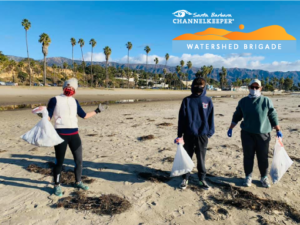 Help Santa Barbara Channelkeeper's Watershed Brigade Clean Up the Coast for World Water Day 
Join Santa Barbara Channelkeeper's Watershed Brigade this weekend, March 20-21, for a socially distanced clean-up event in honor of World Water Day. 

Channelkeeper's Watershed Brigade is a community of volunteers dedicated to keeping our local watersheds and beaches clean. Brigade members remove trash from trails, creeks, rivers, urban areas, and beaches, act as environmental stewards, and collect litter data used to help reduce pollution at its source. And it's fun! Volunteers earn points that make them eligible for perks and prizes. 

Our goal over the weekend of March 20-21 is to clean every beach from Gaviota to Ventura. Volunteers will head out independently to different beaches along the South Coast to remove litter from a targeted area. We've created a sign-up form to ensure that we cover every beach and that our collective efforts have maximum impact. 

World Water Day is March 22 and this year's theme is "The Value of Water." Making sure that our coastline is litter-free is an important part of valuing our water resources AND reaching Channelkeeper's goal to make water swimmable, fishable, and drinkable for all. 

Help us take steps toward achieving this goal by signing up and cleaning a section of the beach this weekend. 

Visit www.sbck.org/brigade or email Molly@sbck.org for additional information.

How to participate:

Sign up for a beach; 
Complete the waiver; 
Gather supplies like bags and gloves (or email us for a kit); 
Read our safety guidelines; 
Head to the beach; 
Share your photos and results here to be eligible for prizes!